Art Production Beyond the Art Market | He is NOT his Studio:  Looking at Greg Sholette | Whitehot Magazine | art21: Inside the Artists Studio | art21: 5 Questions for Contemporary Practice | Jeffery Skoller: "Do It Yourself Art Action Kit!"

Leah Oates In Conversation with Greg Sholette

Greg Sholette, WTO Action Collectible Poster, 2013. Image courtesy of the artist.
Leah Oates: How did you become an artist and what is your family background?
Greg Sholette: To be honest, growing up outside Philadelphia watching Jacques Cousteau specials on television, my real childhood ambition was to become a marine biologist not an artist. You know, slip on a wetsuit, jump in a submersible, discover new types of sharks and crustaceans.
LO: And?
GS: All that was before my unhappy encounter with higher mathematics. We didn't get along. Science was out. But my parents were. Though neither professionals nor academics (my dad sold automobile insurance for a living) I was encouraged to explore my obsession with drawing and making things out of cardboard to play with. Around age six they managed to set aside some money to send me to weekly art classes with a local watercolorist named Jeanne Doan Burford (who in fact just turned ninety).
I think its worth noting, Leah that I really don't think before starting these lessons I was consciously making "art."  I mean drawing and so forth seemed more like a half-magical, half-megalomaniacal ritual or tool with which to manage, or escape the big, sometimes intimidating world of adults. Jeanne began to channel this intensity, focusing it with such classical exercises as collage, illustration, color mixing and the like. She effectively opened-up to me the possibility of my becoming an "artist," something that my family background would have probably foreclosed as a serious option.
LO: Why do you say that?
GS: Because so much depends on seeing oneself succeed in a particular role don't you think Leah, and there were simply no role models to follow. None within reach so to speak.
LO: But this was also what, the mid-1960s, there must have been other influences on you as well?
GS: Yes, and as clichéd as it sounds radical change was filling the air it seemed in those days. Nor was it lost on me. In 1970 I was caught stuffing student lockers at my Junior High school with an anonymous "underground" newspaper that my friends and I printed on a mimeograph machine, then state of the art reproduction technology. Bluish-green and terribly naive, the cover showed Mickey Mouse raising a clenched fist to decry the war in Vietnam, imperialist "Amerika," and police brutality in nearby Philadelphia. I believe we also reviewed LPs by Jimi Hendrix and Janis Joplin.
LO: How did other students respond to this?
GS: I don't recall any of our twelve to thirteen year old peers showing much interest in our paper, our politics, or the music we recommended. We on the other hand smoked pot, listened to protest rock, and worried about being drafted some five or six years down the road. I also can't recall being invited to many parties.
LO: When did you actually realize you were going to be an "artist?"
GS:  Not until about 1976 I think when I attended Bucks County Community College in Pennsylvania. There I met the artist Charlotte Schatz who was a brilliant teacher. She pretty much figured me out. She helped me get into The Cooper Union and once in New York my previous political leanings found an ally and mentor in professor Hans Haacke. But I also took some memorable classes with Louise Bourgeois, filmmaker Robert Breer, and art historian Dore Ashton.
LO: And after that?
GS: Well, after graduating in 1979 I became involved with the artists' collective called PAD/D or Political Art Documentation/Distribution, which was co-organized with Lucy R. Lippard among others. About a decade later I co-founded the group REPOhistory with another gang of artists, educators and activists including Jim Costanzo (AKA Aaron Burr Society today), Tom Klem, Lisa Maya Knauer, Todd Ayoung, Lisa Prown, and Neill Bogan and among others.
LO: What does REPOhistory mean and what did you do?
GS: The name is a spin on the 1984 indy film Repo Man with Harry Dean Stanton, but our objective was to "repossess" lost or forgotten or suppressed histories of working people, women, minorities, radicals and then mark these in public spaces around New York City.
In 1992 we managed to get City permission (under Mayor David Dinkins) to install dozens of temporary, metal street signs around lower Manhattan revealing such things as the location of the first slave market on Wall Street, the shape of the pre-Columbian island coast line, Nelson Mandela's historic visit to New York just two years earlier, and the offices of a famous 19th century abortionist named Madame Restell—once located where the Twin Towers also once stood. One side of each sign had an image. The other told the story.
LO: So you collaborated making art projects for quite a few years?
GS: Yes, but I continued to make my own work all along as well: wall pieces, dioramas, photo-based bas-reliefs.
LO: But how do these public, collective practices you're your own art making overlap and inform each other?
GS: In retrospect I think my individual art making has functioned as a sort of refuge for experimentation that in turn feeds back into my more public practices, writings, teaching and so forth.  For example REPOhistory was founded in 1989 with a sizable group of other people. However, my interest in exploring alternative ways to represent history had already found expression earlier that year in a nine-foot wide panoramic-collage entitled "Massacre of Innocence" about the death of children in historical battle zones. One year before that I produced a three-part photo-relief piece entitled "Men Making History/Making War:1954" about the politics of the McCarthy era. More of this work can be found on the back pages here. 

LO: And this cross-pollination continues today?
GS: Sure, something similar is happening today, for example with my book "Dark Matter" whose themes about history, archives, and resistance reappear in my graphic novel "Double City" that is still in progress. I supposed this is why I prefer to describe what I do as an expanded art practice rather than calling it post-studio, or relational aesthetic, or even social practice art. Besides, as you know I like to make "things."
Installation view of assorted Greg Sholette collectibles, 2013. Image courtesy of the artist.
LO: But when did you become a teacher?
GS: Short version is that during the mid-1980s I also tried to run a business. It was a prop and model-making shop located in the Gowanus area. The techniques I still use in some of my art stem from this venture, which, shortly after the financial crash of 1987 collapsed along with the local advertising industry. I decided to get my MFA. Heading west I attended the University of California in San Diego where, between 1992 and 1995, I worked primarily with French new wave filmmaker Jean-Pierre Gorin. No, I wasn't making films (though I taught film theory), I was instead creating installations and sculpture influenced by cinema. After that I returned to New York as a critical theory fellow in the Whitney Independent Studies Program (ISP) where Benjamin Buchloh, Mary Kelly, and Ron Clark encouraged me to write about the kind of collective, political art of PAD/D and REPOhistory. It was excellent advice. But even with all this education and experience finding a teaching position took a long time to land. Its even harder today.
LO: Do you think the art world has gotten out of hand in terms of money and class elitism? Would it be better to go back to the good ol days of Max's Kansas City and Warhol's Factory?
GS: Those particular good ol' days were somewhat before my time Leah, though I did arrive here as the East Village scene unfolded in the 1980s. Young artists showed their work in galleries like Nature Morte and Fun Gallery and also at various clubs including the Palladium, Danceteria, and Pyramid. Some even sought to reenact aspects of a 1960s SoHo they had only read about in magazines including Warhol's Factory. In general East Village art was a compilation of campy gestures, or perhaps campiness to the second power, and its ironic self-consciousness dovetailed neatly with dominant versions of post-modernist theory.
LO: Where did you fit into this "scene" then?
GS: Yeah, well my outlook, as well as that of my friends and collaborators, was pretty skeptical. PAD/D for instance produced a critical parody of the East Village art scene in 1984. We claimed to open up four "new" galleries showing anti-gentrification art. In reality these exhibition spaces were just boarded up buildings on street corners east of Second Avenue. We named them "Discount Salon,"  "Another Gallery," and the "Guggenheim Downtown." For several weeks that summer a group of about eight wheat-pasted posters denouncing real-estate speculators and spray-painted stencils calling on our peers to fight the displacement of low-income residents.
LO: Artists fighting gentrification? Did it work, did you reach your audience with the message?
GS: Yes, and no. But one way or the other our ersatz art venues and the actual galleries they satirized were soon enough replaced by trendy restaurants and boutiques.
LO: So things have really changed for the worse?
GS: Also yes and no. I mean maybe the feeling today that the art world has been swallowed by hedge fund operators, global real estate tycoons, and finance capital is not entirely new, no, but you could also say it is really like the 1980s art scene turned up full volume.
LO: That seems pretty bleak, no?
GS: Thankfully there is still push-back by artists and their allies. I am thinking of Groups like Temporary Services, Aaron Burr Society, Chto Delat, and Pussy Riot and many others who continue to do the kind of resistance PAD/D and REPOhistory were engaged in today, just as PAD/D and REPOhistory were continuing to do the work of Art Workers' Coalition, Black Emergency Cultural Coalition, and Angry Arts and other groups that came before them.
LO: What about your own work? You might best be described as a conceptual artist and a political activist, writer, curator and educator, yes?
GS: Conceptual Art? Right because of my association with Haacke, Gorin, Lippard and the ISP of course this aligns me with this legacy. I guess that is true in a way.
LO: Correct, though?
GS: It's an honor to have my art connected to theirs. Then again, labels are hard to make peace with (as much as they are impossible to live without). So yes, while I do try to maintain a theoretically informed practice at the same time my work does not look like "conceptual art." In fact it often seems just the opposite: hand made, figurative, with low-brow, pop-cultural references. Sometimes my art even comes off as conspicuously "rearguard." I mean, over the years my projects have made use of an odd assortment of things such as artificial plants, diorama techniques, comic book imagery, miniature tableau, and sculpted action figures in order to present narratives about history, class, and political injustice.
LO: So what is your working process like?
GS: Hard to describe, but I just finished David Joselit's recent book "After Art," and thought for a while I had the answer. Joselit starts off discussing the far too many images that are constantly coming at us from the Internet, advertising, cinema, TV, etc…  And then he counter-intuitively argues that "art" is not getting lost in this image-blizzard. Instead it has become a powerful generator of what he calls format. What is format? He explains that if traditional artistic mediums lead to object making, then format establishes patterns that create links and connections across images and long threads of content. The format therefore, is how an artist re-uses images, or ideas in order to produce a work. One of his favorite examples is Pierre Huyghe whose art always changes form, but there is a range of ideas lurking behind each piece.  So After Art is when artists stop making discrete "works" and instead reiterate and comment on existing materials, sort of like recycling with a mission.
LO: I can see a certain connection to what you do Greg.
GS: Me too. But then when I finished After Art and really thought about it I realized that if Joselit's concept is correct, then my work suffers from format failure! I mean he subordinates mediums, materials and content to his morphing paradigm. But I still retain a relationship with all three in my "expanded" practice. When I make art, or when I write a text for that matter, I find that I am assailed by the specific concrete nature of form and content.
LO: Please Explain.
GS: Lets say I am trying to write about the concept of the archive. Despite every attempt to discuss it conceptually, I know sooner or later that I will be forced to dip down into the archive's specificity: its sprawling mass of missing practices, lost details, and dog-eared documents. Its as if some archive-agency commanded attention from below.  And this dusty dark matter force tears up holes in smooth surfaces and turns abstraction pathological.
LO: A conceptualist!
GS: Ok, why not. Because what has shaped my art and its working process is less some profound inner drive to become an "artist" (although I admit I am as attached to that romantic idea as anyone) and is much more like the result of a string of fortunate encounters involving certain individuals and groups, certain institutions and historical moments, even certain objects and materials. As much as I would like to claim I am in full command of this process it's a collaboration of sorts, a collaboration with the past –thus my interest in archives and history– as much as it is with the future expectations of a more egalitarian society. So that when all is said and done "art" is for me at least the way we think thought in material, plastic terms, but also reciprocally, it is how certain events, ideas, hopes and encounters become thinkable to us. And it's a process that sort of bypasses our best attempts at exercising total authority or control over it.
LO: What are your upcoming projects?
GS: I am currently working on a new iteration of Imaginary Archive (http://www.gregorysholette.com/?page_id=587) for Kiev Ukraine this Spring, which, given the situation there should prove pretty compelling. I am also continuing to add chapters to my graphic novel Double City, and I am especially looking forward to the solo exhibition of new work I am preparing for Station Independent Projects in the Fall.
LO: What advice would you give an artist who has just arrived in NYC and who is not sure where to begin?
GS: Do your research. Seek out like-minded people. Map out the terrain. Stay tough.
I Am Not My Office: Gregory Sholette Interviewed by Karen van den Berg for Art Production Beyond the Art Market?
Karen van den Berg: Greg, you have been writing about activist art,
collectivism, and the impact of the invisible mass for the art world for
many years, and your writings are quite well known within the global
discourse about art in public space and so-called socially engaged art.
What I found interesting is that you do not act in the role of artist in your
writings, meaning you avoid the presentation of your own work in your
writing. I would therefore like to know how you would describe your own
working practice as an artist. How would you explain your self-conception
as an artist, and how is it related to your writing?
Gregory Sholette: To understand one's dual position as both a politicized
individual/thinker and also as an artist—or perhaps what Pier
Paolo Pasolini termed a "citizen poet"—demands today that one remain
ill at ease when inhabiting either role, I think; even if that means playing
oneself off against oneself. Or maybe the right tag here is actually
something like a citizen poet sans citizenship or state? Anyway, we—that
is to say, us faithless intellectuals, artists, curators, and administrators,
myself included—we live in a moment of uncertainty and divided loyalties,
and it would of course be easier to forget the convoluted nature of our predicament
if only "art" was an easy thing to do without generating contradictions. Don't you agree, Karen?
KvdB: This is a very poetic self-description—so how could I not
agree? I like the idea of a citizen poet sans citizenship. But could you
still be a little bit more explicit? What does your everyday working
practice look like? Do you produce works without a specific event or
situation? Do you work on your own most of the time? Tell me how
I can imagine the job of a citizen poet sans citizenship.
GS: Depending on priorities, I divide my days between computer time
and studio work. Some of this is work promised for an exhibition or publication,
some involves new projects I hope to produce at some point.
At the moment, I am, among other things, finishing up an essay for The
Blackwell Companion to Public Art; doing research for a text on the idea
of color and also for an art project about the militant, ultra-Left organization
Madame Binh Graphics Collective (active in New York City in
the 1980s); working with UK theorist Kim Charnley on a book of my
selected essays; and also developing the next chapter of Double City, a
graphic novel whose first chapter ran in the June 2013 issue of Frieze,
with the second installment appearing in Shifter 21 in October 2013.
(Double City is a science fiction narrative with a plot that seeks to address
issues raised by my book Dark Matter [2010], with subsequent chapters
hosting various illustrators and appearing in different publications as the
story unfolds.) And, to be perfectly honest, I feel that work is going on all
the time, even in my sleep sometimes because I often wake up trying to
solve issues related to ongoing projects. So much for the romance of the
citizen poet! But let me try out another label with you: let's use "mongrel
researcher." We could use it as a tag for artists involved in different registers
of practice, including traditional studio art but also collaborative
projects and online digital projects, as well as research, writing, lecturing,
and teaching that seeks to expand and reflect on the social conditions of
artistic production itself. It's not much of a sound bite, though I suspect
for a lot of artists this awkward, run-on description rings true. And perhaps
not only for artists. My brother, for example, drives about the US East Coast
demonstrating and selling engineering products. Wherever he goes he must have a
Blackberry device with him. He can hardly ever escape the office.
This seamless merging of life and work is becoming a pretty common
condition for many people in post-industrial economies. Except that for
artists (as well as independent curators, critics, scholars, etc.) the situation
is especially poignant because allegedly our "creative" and "mental"
labors are part of a vocation or "calling" as opposed to routine, wage-based
work. But is that really true? I mean, after all, most of us have no choice
but to engage in multiple forms of employment just to "pay" for our socalled
artistic careers. At what point does our "free" creative labor—which
presumably negates regulated productive labor—actually slide over into a
kind of full-time affirmative work central to networked capitalism? These
topics are on people's minds. Curator Dieter Roelstraete has addressed
this play-as-work/work-as-play and the ambivalence it produces by calling
first for realism, followed by a self-conscious attempt at returning to
art its negative, critical function.1 A more sober, less optimistic analysis
is Marion von Osten and Katja Reichard's video Kleines Postfordistisches
Drama [Small Post-Fordist Drama, 2004]. Have you seen it?
KvdB: No, I haven't. I've just read about the project.
GS: My own collaborative installation I Am NOT My Office (2002)2 fits
in here in a different way, because to create the work I invited a group
of people to imagine what kind of prosthetic enhancement they would
wish to have in order to be able to simultaneously do their "day job" and
also do what they really would like to be doing instead of working (including
making art). I then used their ideas to create miniature models
and drawings, and then the project was installed at the University of
Chicago's Smart Museum of Art for Critical Mass, an exhibition curated
by Stephanie Smith in 2002. Which gets us back, I think, to your last
1 See Dieter Roelstraete, "A Letter on Difference and Affirmation," in Art
and Activism in the Age of Globalization, eds. Lieven De Cauter, Ruben De Roo,
and Karel Vanhaesebrouck (Rotterdam: NAi publishers, 2011), 94–99.
2 See http://www.gregorysholette.com/?page_id=37.
question, because I Am NOT My Office was in its own quirky way an attempt
to materialize what Alexander Kluge and Oskar Negt describe as
the counterpublic sphere: a fragmented realm of unconscious fantasy produced
by workers in response to the alienating conditions of capitalism.
Almost a decade later, my book Dark Matter: Art and Politics in the Age of
Enterprise Culture used a different approach in order to respond to that
same research problem.
KvdB: What you said about the "mongrel researcher" and everyday
practice in the "fragmented realm of unconscious fantasy" gives
a quite clear indication that your work also includes a permanent
self-questioning. Do you think "work" is an adequate term for your
practice? If I define work as a kind of activity that ensures your livelihood—
as "subsistence-work," to use a Marxian term—would you
say the activity you just talked about is work in this sense? Do you
make your living by working as a "mongrel researcher"? Or is this
more a privileged realm, enabled by other day jobs? When I visited
you in New York you told me that you sometimes work with galleries,
but you have no close connection to any one gallery, right?
GS: Your right, of course, Karen. As Theodor W. Adorno once quipped:
"criticizing privilege becomes a privilege." And you're also correct that
the term "work" in English is often loosely applied to things that we do
regardless if they are waged or not, pleasurable or not. In terms of my
personal finances, therefore, I am fortunate to draw a modest salary from
teaching within the New York City public university system (at Queens
College and at the Graduate Center), and also secondarily I support myself
through lectures and sometimes art commissions. But my point is—
and this is not my unique observation as I suggested before—for us "creative
workers" so-called subsistence work is becoming less and less clearly
differentiated from privileged forms of labor, so that even my taking time
out now to answer your questions could be seen as a kind of work, or as a
playful distraction, or both simultaneously. In other words, it is difficult
to distinguish where one begins and the other leaves off because working
on one's own career is at best a fuzzy kind of labor. That might not be true, say,
of my brother, because if you where interviewing him instead of me, I suspect
his bosses would most likely consider it extraneous to his salary. Or maybe not?
After all, this is an economy where ephemeral activity generates prestige and "buzz"
that might actually enhance company branding. Still, I doubt this kind of
fuzzy labor "trickles down" to menial jobs that make up so much of the
precarious economy that we are told is the "new normal."
KvdB: If you talk about "us creative workers," I
assume this includes more than just the art field. Therefore, I am
curious if the "art field"—as a social field with its own norms,
and maybe even with its own economy, as Pierre Bourdieu describes
it—is still a relevant concept to you. Would you rather talk about
a sphere of precarious creative workers than about the art field?
Or do you still consider yourself to be a player within the art field?
GS: Hmm . . . perhaps it's a bit like the way Karl Marx uses "capital,"
"money," "profit," "surplus," and other terms in order to investigate a single
phenomenon that has different material manifestations depending on
how he approaches the object of his research: capitalism. So, risking the
loftiness of this comparison, I find I tend to use the term "creative workers"
or "creatives" when referring to the broader arena of cultural production,
and I use "artist" to describe what I and other academically trained
plastic or visual artists do as a subset within that broader arena. To ignore
this definitional specificity is I think a mistake, especially if one is concerned
with questions about changing conditions of artistic labor as I am.
And yet to pretend the "art world" is not a diminutive part of the larger
post-Fordist enterprise economy is simply myopic, particularly if one is
looking at art's reception or its impact on society.
So, briefly—yes and yes; the issues we are discussing do relate to that
larger category of imaginative social productivity within which "art" is
situated, and, yes, these concerns also have specific possibilities and limitations
for "us"—all of the visual artists, curators, critics, administrators,
historians, interns, students, packers, installers, fabricators, dissidents,
outsiders, and so on who habitually reproduce the symbolic and material economy
of the mainstream "art world." This is what I describe as art's
political economy in Dark Matter, and what Oliver Ressler and I take as
our thesis for the exhibition and the book It's the Political Economy, Stupid
(2013).
KvdB: You are an assistant professor at Queens College in New
York. How do you take all these considerations into account when
you teach in a—if I might say—relatively traditional context of art
education? I would be interested to hear what kind of advice you
would give to one of your fine art students, if he or she were to ask
you for possible strategies to make a living as an artist.
GS: It is indeed a traditional context I teach in. In fact, I was hired as a
sculpture instructor, not a specialist in theory or socially engaged art. My
undergraduate students are often the first in their respective families to
attend college (as I was and remain), and they are typically immigrants
to the US, or the children of immigrants. So as you might imagine, it
raises lots of internal complications for me sometimes. But my approach
to teaching is both pragmatic and idiosyncratic. As for the practical part
I am always upfront with my students about the difficult conditions we
artists find ourselves in today. I never sugarcoat the art "profession." But
just as my friend and former professor Hans Haacke explained to us back
in the late 1970s, one must search out every possibility to make one's
work visible, and the same goes for finding meaningful employment. That
advice, too, is bound to bring about its own contradictions. Nevertheless,
for people not living on trust funds or grants—and that includes all of
my students—"political correctness" must sometimes take a backseat to
survival. So this past year, as chair of the MFA program, I specifically
focused the semester on how to sustain oneself as an artist by inviting
guest speakers with wide-ranging approaches to this challenge, including
the graphic artist Josh MacPhee, whose online, worker-owned cooperative
Justseeds sells inexpensive, politically focused print art. At the same
time, I have to acknowledge that as Vladimir Mayakovsky's friend Viktor
Shklovsky insists: being an artist requires the energy of delusion. Well,
OK—perhaps it is more akin to embracing delusion without becoming delusional?
And maybe art comes down to appreciating the thinness of
the line separating those two possible states of being?
KvdB: Sounds like continuous struggle! But being an artist seems to
be attractive anyhow. Moreover, it seems it has never been so attractive
as it is today. The number of young people who want to be artists
increases constantly. This leads me to my last question: Your work is,
as you mentioned, about changing the conditions of artistic labor,
and I would say your work is characterized by a politically active approach.
But to what extent do you think art is an essential approach
in the field of political activism?
GS: The research I did for Dark Matter strongly indicated that an unprecedented
number of people (at least in the US, UK, and Germany) claim
to be artists these days—though I am not sure it is only young people. So,
yes, being an artist is clearly attractive. Or has been attractive for some
time. But why? I mean, considering that it has always been a precarious
occupation—or better yet, vocation—and that today, after several decades
of deregulation and privatization, it is even more so. At least this is true in
the US where the lack of grants, jobs, health insurance, reasonable spaces
in which to live and work (in key cities), and, of course, student debt that
can reach well over $50,000 makes studying and becoming a "professional
artist" appear like a ridiculous pursuit. (I understand that sometimes from
a European perspective it is less challenging to grasp our situation.) But
would I describe it as a fun struggle? Maybe—in a curious, counter intuitive
way. Or perhaps the thorny pleasures of being an artist somehow relate
to the way a hyper-entrepreneurial society insists on creative risks and
constant innovation? After all, it was a piece in the Washington Post a few
years ago that asserted the "MFA is the new MBA"!3 That kind of hype
may make such insecurity seem almost sexy. Or at least it may have made
it so before the "society of risk" went over the cliff. In fact, I have been
wondering if the stats are still going in the same direction since 2008.
3 Philip Kennicott, "Daniel Pink and the Economic Model of Creativity,"
Washington Post, April 2, 2008, http://articles.washingtonpost.com/2008-04-02/news/36846243_1_fine-arts-left-brain-mba.
What about politics and art? As far as I am concerned, art is always
political and always communal. People like Haacke made this clear to me
long ago, as did having such friends and collaborators over the years as Lucy
Lippard, Leon Golub, Carol Duncan, Andrew Hemingway, Martha Rosler,
Janet Koenig, Oliver Ressler, John Roberts, Blake Stimson, Brian Holmes,
Gene Ray, Gerald Raunig, Marc James Léger, Krzysztof Wodiczko, and
Olga Kopenkina, as well as the many brilliant people I have worked and collaborated
with over the years in such collectives as REPOhistory, Political
Art Documentation/Distribution, and, most recently, the GulfLabor
Coalition. Still, what is key, I think, is differentiating art made politically
from art that only seeks to represent politics. And this is even more important
today since art has apparently taken a "social turn," to cite my colleague
and friend Claire Bishop. So with all this talk about social practice and
artistic activism, even within major museums (though it is really just "talk,"
as far as I can tell), I am compelled to quote Jean-Pierre Gorin, another former
professor of mine, who once said the point is not to make political art
but to make art politically. That, however, does not always mean engaging
with "politics" head-on. Most recently, for example, I have been exploring
the way cultural production itself—in my case this means artistic labor and
its related conditions of production—meshes with broader battles over liberty,
democracy, and economic equality. I do this through my writings and
research, and also through my art. Sure, sometimes this means addressing
political issues directly—and yet "politics" also means engaging in processes
of collaboration and/or exploring my own or other people's fantasies of liberation
or even outright "escape" (both are visible in such projects as I Am
NOT My Office, Fifteen Islands for Robert Mosses (2012), Imaginary Archive
(2010–), and, most recently, the graphic novel Double City). So I suppose for
me making art is about adding a small, sometimes personal and sometimes
communal, chapter to that long, winding history of struggle "from below."

He is NOT his Studio:  Looking at Greg Sholette
By Jon Fine jonfinearts.com
The term 'Postmodernist' should not be a dirty word, a description whose mere mention causes many an eye to roll. While its definition can be ambiguous, and stubbornly perplexing in its playful indeterminacy, it is occasionally the best description for a comprehensive body of work. The art of Greg Sholette, on display in his exhibition Selected Projects, is postmodernist, or, perhaps more accurately, 'post-studio.' His varied, complex work forcefully engages itself in conversation with the latter-half of twentieth-century critical theory. It conspicuously shrugs off any pretensions to 'high art' by synthesizing art practice with social commentary, sweeping past the barricades Modernism once established between art-making and life, injecting considered aesthetics into the quotidian. It denies the privileged autonomy, and subsequently, commoditization, of the 'art-object' and 'author-artist.' And, most importantly, it dismisses the imposition of a systemized aesthetics. Therefore, Sholette's works, such as I am NOT my office and the Lower Manhattan Sign Project (executed by the group REPOhistory), are best analyzed through the comprehensive lens of established Postmodernist discourse.
In I am NOT my office, Sholette, like pop artists before him such as Roy Lichtenstein, utilizes the medium of 'low-art' at the core of his work. In this particular instance, Sholette crafts 'action-figurines' based of the "sub-cultures of amateur art-making," which include sci-fi and action movies, comic books, website design and home video. I am NOT my office explores the potential relationships between the work of the trained 'high' art professional and the informal work of the amateur. Sholette contends that, despite its marginalization, the subcultural 'dark-matter' work of the amateur "maintains a symbiotic relationship with the (art) world that is both creative and economic." "Sub-culture art" therefore exists in a state of semi-autonomy: it is both valid in its own right and as an essential supplement to the development of contemporary art.
Yet, to call I am NOT my office 'pop' would be disingenuous; the intrinsic commentary embodied by Sholette's work moves beyond a simple flattening of the 'high-low' art distinction. Despite its revelatory status, pop art still adhered to academic tenets of composition and beauty, all of which was 'channeled' through the conduit of the professional artist. Artist and critic Mary Kelly, in her postmodern piece "Re-Viewing Modernist Criticism," negated the so-called privilege of those artists uniquely 'qualified' to produce art deemed significant. She claimed that rigid adherence to any critical principle ignored the time-tested Kantian ideal that "genius is the mental disposition through which nature gives rule to art…no definite rule can be given for the products of genius, hence originality is its first property." In this context, the media of I am NOT my office theoretically moves beyond the substance of 'pop' in its suggestion that so-called amateur art forms and artists, no less than professionals, can be sources of functional creative energy, originality, even genius. I am NOT my office champions unbridled self-expression, and gleefully eschews pop's reliance on a set of trained aesthetics. It revels in its declaration that there is no monopoly on creative labor.
I am NOT my office also demonstrates an indebtedness to the postmodern ideal of 'process,' an idea that strict 'objecthood' need not be the sole determinate of a work's finality. Robert Morris articulated this concept in the text, Notes on Sculpture 4: Beyond Objects, and in his ambitious project, Box with Sound, which included an audio recording of the artist working on the box-structure that would be identified as the "finished" product. Sholette employs a similar strategy, bringing literal art-practice to the forefront of the viewer's consciousness. At the foundation of I am NOT my office is a questionnaire posed to office workers, asking them to describe ideal super-powers that could aid them in their professional life. From the results of these questionnaires, Sholette envisions and constructs his 'meta-object' figurines. These models are not displayed as free-standing, autonomous objects (final pieces); rather, they occupy space alongside comic-like 'process collages.' These 'process collages' reveal a step-by-step methodology that incorporates the literal text of the questionnaire alongside the pictorial development of its corresponding 'meta-object.' Process is emphasized over product, creative labor over ends. The finalized 'meta-objects' do not function, or engender meaning, as entities independent from the actual conditions from which they were produced. Instead, they exist, like the physical box in Morris' Box with Sound, only as the 'end' of art-practice, a single element of the piece's 'text.' The result is a work that rejects singular autonomy (as well as singular authorship). I am NOT my office reveals, in an intentionally low-art fashion, the oftentimes confusing and indeterminate segmentations of cooperative multi-tasking and responsibility.
In Sholette's collaborative, public piece, the Lower Manhattan Sign Project, the artist continues his defiance of academic conventions. Like I am NOT my office, the Lower Manhattan Sign Project denies singular authorship and, subsequently, a fixed place in the history of culture; as a collective effort, it neutralizes the effect of Foucault's 'author-function,' i.e. the categorization and limitation (individualization) of a work's meaning as relegated by the context of its author. More importantly, however, the project utilizes the 'textual reading' of public space in place of a formal exhibition space. Why does this matter?
In essence, art forms are subjected to the mutability of social context and their relationship to other proximate works, or 'texts' (i.e. forms of cultural production which produce meaning). Under Modern considerations, as Mary Kelly again explains, the literal, unifying element between these otherwise independent works is the exhibition. The exhibition encompasses individual art-texts within a particular social framework, or context, and, through this 'inter-textual network,' produces significant meaning over and above the inherent. Like the Soviet film ideal of 'intellectual montage', one piece of art informs the meaning of the work hanging next to it by its sheer juxtaposition; the museum structure, with all of its cultural implications, affects the reading of all the texts it encompasses.
By moving the work outside the museum/exhibition, the area previously proscribed for 'art-texts,' Sholette confronts the question offered by Jeffrey Skoller, "In what ways do the meanings of social histories and issues change as they enter into the institutions of culture, from the museum to the university to the streets of a specific community?" In the instance of the Sign Project, the public space becomes the exhibition space and the arena of comparative discourse. Rather than engage other, proximate, literal texts in a discourse regulated by the formal exhibition, the signs organize their meaning in relation to the 'text' of the public environment, where a considerable intersection of variable and changing discourses occurs. Significance in the project is therefore not derived from a singular and established relation to other art 'texts,' but in its correlation with the surrounding historical, social and cultural 'text' of the community. As its surrounding environment changes, so too does its meaning.
Sholette is the feisty, contemporary, post-consumerist embodiment of the old constructivist slogan, "art into life, and life into art," a Rodchenko for the twenty-first century (sans the socialist optimism). His work denies the prominence of the art-academic, the domineering status of the formal exhibition, and the Modernist maxims of armchair theorists. He subverts the cherished (capitalist) ideal of the self-sufficient art-object, creating socially-charged works whose elements are spatially, materially and pictorially fragmented and heterogeneous, yet textually inseparable. He exalts the amateur art-maker and the citizen participant as fundamental to creative action, artistic and political. And at every step of the way, Sholette resists a fixed identity, his work undercutting the systems of commoditization, celebrity and ownership that have come to dominate and define the still Modernist-dependent art market. Oftentimes playful, occasionally ambiguous and sometimes confusing in its indeterminacy, Sholette's studio-independent work is (in)definitely postmodernist.
________________________________________
Whitehot Magazine
whitehot | May 2012: In Conversation with Gregory Sholette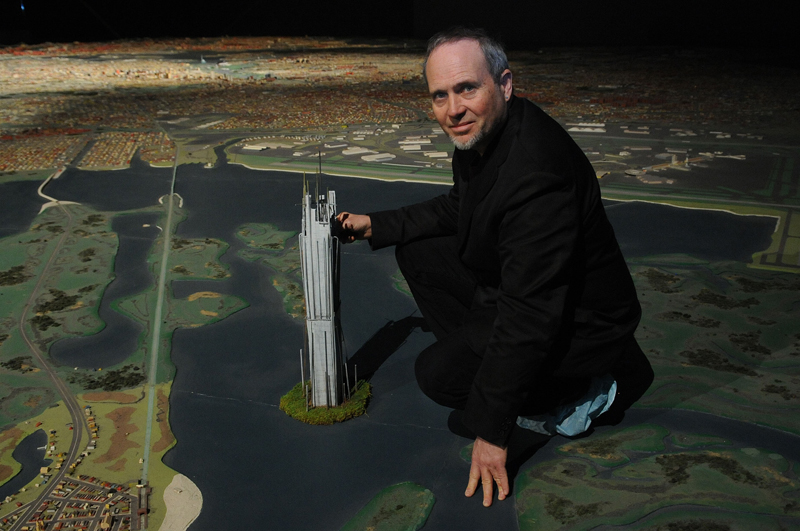 Gregory Sholette with Brett Bloom's 11 Million Person Tower, 2012. Courtesy of the artist and Queens Museum of Art.
For his project Fifteen Islands for Robert Moses (currently on view at the Queens Museum of Art), Gregory Sholette asked 15 artists, known for their work in social activism, to come up with an idea for an island that could be added to the panorama of New York City installed at the Queens Museum. The panorama is the largest scale model of a city in the world. It includes every building that exists in the five boroughs. It was commissioned by Robert Moses for the 1964 World's Fair and took over 100 artists 3 years to build.
Fifteen Islands for Robert Moses includes projects by Hana Shams Ahmed, Brett Bloom, Larry Bogad, Marc Fischer, Aaron Gach/Center for Tactical Magic, Libertad Guerra, Dara Greenwald, Marisa Jahn, Karl Lorac/Themm!, Ann Messner, Ted Purves, Rasha Salti, Dread Scott and Jenny Polak, Jeffrey Skoller, and Nato Thompson. Models of these islands were built by Gregory Sholette and installed in the panorama. On view through May 20, 2012.
Gregory Sholette was a member of Political Art Documentation/Distribution (PAD/D: 1980-1988), and REPOhistory (1989-2000), both artist groups that were once active in organizing politically-inspired shows in New York. He is the author of Dark Matter: Art and Politics in the Age of Enterprise Culture (Pluto Press, 2011), a book that explores the role of the 99% of artists who do not live off sales of their work. He is also a member of The Institute for Wishful Thinking, an artist group started by Greg and Maureen Connor in 2008 with a group of then MFA students,
Patty Harris: Given Robert Moses' legacy, his domineering, overarching plan for developing New York City and the public resistance to it, why is this show called 15 Islands for Robert Moses?
Gregory Sholette: I wanted to make a reference to the fact that Moses was the one who commissioned the panorama for the 1964 World's Fair. I wanted to also, in a roundabout way, pay homage to the anonymous model-makers who constructed the original panorama. Thus the title is somewhat tongue-in-cheek, "Fifteen Islands for Robert Moses.
Harris: Why islands?
Sholette: I had a very perverse reason for this. I wanted to ask people who specifically were engaged with, or had written about, social-practice art to then come up with an island because, in my mind an island, or isolated landmass, is a direct metaphor for detachment and exactly the opposite of social engagement. There's some perversity in that.
Harris: Along those same lines, if the fabric of city life is interdependent and social, what is the correlation between individual desires and how they shape the public experience of the city?
Sholette: They always do shape the fabric of the city. But desire doesn't necessarily come from individuals; it's often collectively produced. Part of it is a feedback mechanism between the city as a complex machine that generates pressure on the collective to have certain fantasies and materializations of the urban evironment. It's also a place where that feedback mechanism can break down and create spaces for interesting, alternative zones of fantasy and possibility. I think one of the things that's happened since I've been in New York since 1977 is that those little gaps and spots and undefined urban places have really closed down and sealed up thanks to the forces of gentrification, deregulation, privatization, and of course constant surveillance. They've been welded shut. In going back to the Fifteen Islands project, you might say I was trying to pry open that space and insert a different possible reading of the landscape of the city.
Ted Purves, Sillian Archipelago, 2012. Courtesy of the artist and Queens Museum of Art.
Harris: Do you think that the closure of those kinds of spaces of alternative possibilities has had an adverse effect on the social life of the city?
Sholette: I guess it would depend on where you were coming from. If you're a real estate agent, banker, insurance person, I would say it has not had a negative effect. It's actually had a beneficial effect to allow for the stabilization of all kinds of things. Crime has been reduced, etc. But it also means everything is much more regular and more typically middle-class. People raise their children here, they can go to school here, they jog in Central Park without worrying about tripping over junkies. All of those details have been beneficial to what we sometimes call FIRE – Finance, Insurance, and Real Estate industries, who dominate the politics of the city. If however you're coming from a different perspective such as that of an artist, a musician, or perhaps an educator who wants to make people think critically, or are a person who lives in a part of the city that's being gentrified, or someone who does community work for any number of constituencies at the small end of the political spectrum, those people looking at that situation might say no. The social life of the city is no longer as open to the idea of the commons. It's actually been quite detrimental having these zones of possibility, fantasy, and even let's call it resistance, closed down and sealed up.
Harris: There seems to be an element of utopia in this project. Do you think that individual ideas of utopia could combine to create a greater social experience for everyone?
Sholette: I'd like to think that that's possible. I think that kind of speaks to what has been going on since the beginning of Arab Spring. As far back as the Green Revolution in Iran and then more recently in Tahrir Square in Egypt, and in Tunisia, and the resistance to Scott in Wisconsin, and up to Occupy Wall Street, I think that all of these have some of what you're talking about. They tend to be individuated movements towards a kind of different future or possibility or utopian moment rather than being merged into one big idea of utopia. They retain individuality but are combined spatially rather than ideologically. I say this because it contrasts with early 20th Century Modernist ideas of utopian thinking in which you had to subscribe to a regime that called itself utopia. If you deviated too much, you really weren't part of it. Here the deviation seems to be part of the moment. I think that's quite interesting and quite unique. And perhaps some of that "diversity within unity" is also expressed by my project Fifteen Islands.
Harris: Do you think there is a fascination with a world in miniature in itself?
Sholette: It was Claude Leví-Strauss, the anthropologost, who said that he believed that miniaturization was at the very heart of all aesthetics. He made the point that when you look at a monument, you think at first, 'Oh, it's huge.' Actually, in a sense, it is a kind of miniature version of some far grander thing like a boulder or entire mountain. I think it's an interesting take.
Harris: How is this project related to your recent book, Dark Matter?
Sholette: It's an interesting question. It does actually relate in several ways. The most important way for me is the kind of artistic practice that I think it represents is fairly off the radar screen of the mainstream artworld. It's not really considered art. We're now talking about the many unknown and invisible people who produce things like the panorama which is a professionally fabricated miniature model, perhaps the largest in the world, but it is nevertheless much closer to the kind of amateur diorama builder or scale-train enthusiast than it is to the world of painting and sculpture. I got my start after art school making a living in a model-making shop. I also ran a model-making shop for awhile in the Gowanus area. So the project draws on that set of skills but also my experience of working in an "artistic" mode located outside the parameters of "fine art." More importantly there is also an enormous number of people in the world who do this kind of work purely for the love of creating miniature worlds. Sometimes the work they do is so profoundly skilled and interesting that it would stand up very well next to most of the things that you see in contemporary art galleries. That pretty much illustrates a part of my thesis which states that there is an enormous amount of creativity that takes place that the art world simply does not and cannot acknowledge. To acknowledge it would undermine its own privileged concept of artistic "value." So you might say the model-making is an homage to this dark matter amateur productivity.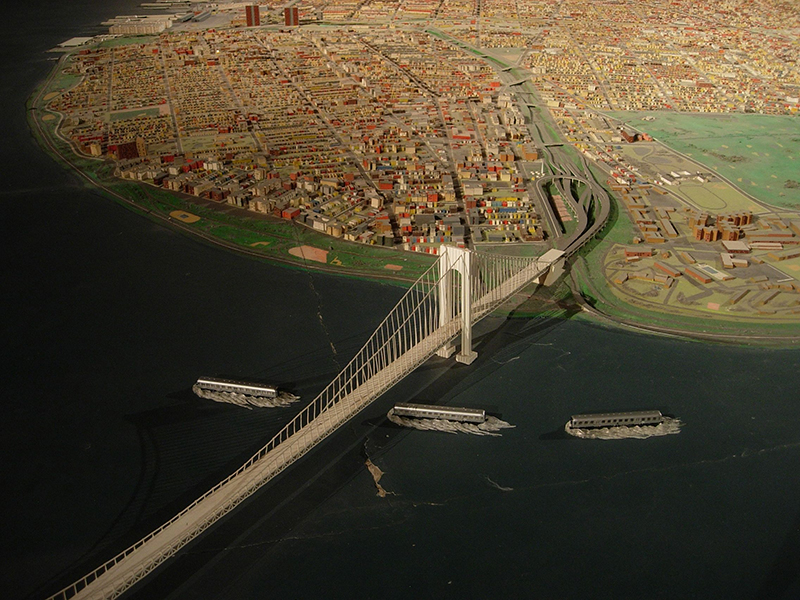 Rasha Salti, Palestine as Metaphor, 2012. Courtesy of the artist and Queens Museum of Art.
Harris: How is this project related to your work with The Institute for Wishful Thinking?
Sholette: Sure there is some relationship in so far as The Institute for Wishful Thinking asks people "What would you like?", and "Can we fulfill your desires?" But Fifteen Islands really relates back more specifically to a project I did in 2005, or a little earlier, called I Am Not My Office. At the time there was an ad campaign by Microsoft saying, "I am my office," with very hip looking young people. This was the catch line. The idea being that with Microsoft technology you can become a virtual office. I borrowed it and added 'not.' I asked a series of questions to a group of people some of whom were artists, others art historians, and some office workers with no art world connection. My question was this: If you could have any sort of superpower or prosthetic extension, that would allow you to fantasize while you're at work about the things you really want to do, what would it be? Then I selected some of the answers and I fabricated models, kind of like action figures, and then exhibited this as an installation for the Smart Museum in Chicago. That's really the origin of the concept behind Fifteen Islands for Robert Moses.
Harris: What do you think Robert Moses would think of your project?

Sholette: Not knowing his personality, I think he would ironically find it amusing. I'm guessing. Maybe a couple of pieces would hopefully rub him the wrong way politically. For example he might object to the "model" of an imaginary independent Palestine as envisioned by Rasha Salti in the form of speeding subway cars — both utopian and lonely at the same time — or Larry Bogad's idea of Dunkin' Island where bankers are publicly "waterboarded." Because the works range from very humorous, frivolous and playful to more serious. Only if the islands were seriously considered for construction would he then probably find it quite impossible and upsetting. But of course, his master plan of New York City was once just a fantasy as well, so who knows?
Larry Bogad, Dunkin' Island, 2012. Courtesy of the artist and Queens Museum of Art.
| | |
| --- | --- |
| | Patty Harris lives and works in Brookyn, New York.She has been showing in New York since the mid 80s, as well as internationally. Recent shows include Exit Art and PS122. She has written for various downtown publications. |
________________________________________
art:21
May 27th, 2011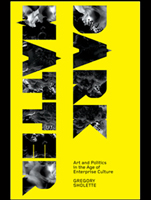 Gregory Sholette, "Dark Matter, Art and Politics in the Age of Enterprise Culture," Pluto Press, 2011
Gregory Sholette is a New York-based artist, writer, and founding member of Political Art Documentation/Distribution (PAD/D: 1980-1988), and REPOhistory (1989-2000). A graduate of The Cooper Union (BFA 1979), The University of California, San Diego (MFA 1995), and the Whitney Independent Studies Program in Critical Theory, his recent publications include Dark Matter: Art and Politics in an Age of Enterprise Culture (Pluto Press, 2011); Collectivism After Modernism: The Art of Social Imagination after 1945 (with Blake Stimson for University of Minnesota, 2007); and The Interventionists: A Users Manual for the Creative Disruption of Everyday Life (with Nato Thompson for MassMoCA/MIT Press, 2004, 2006, 2008), as well as a special issue of the journal Third Text, co-edited with theorist Gene Ray on the theme "Whither Tactical Media."
Gregory Sholette's books
Sholette recently completed the installation Mole Light: God Is Truth, Light His Shadow for Plato's Cave, Brooklyn, New York, and the collaborative project, Imaginary Archive, at Enjoy Public Art Gallery in Wellington, New Zealand.
Gregory Sholette and collaborators, "The Imaginary Archive and Wellington Collaboratorium," Enjoy Public Art Gallery, Wellington, New Zealand, 2010
Sholette is Assistant Professor of Sculpture at Queens College, City University of New York (CUNY), a visiting faculty member at Harvard University, and teaches an annual seminar in theory and social practice for the CCC post-graduate research program at Geneva University of Art and Design.
Gregory Sholette, "Mole Light: God Is Truth, Light His Shadow," still, Plato's Cave, Brooklyn, New York, 2010
Gregory Sholette speaks about "God Is Truth and Light His Shadow" at Plato's Cave, NY, 2010
Being familiar with the angle of Sholette's work, I picked up Dark Matter and read the Preface and Acknowledgments. Yet before I was done with page 1, I got up to sharpen a pencil. You want to give this book the appropriate attention; it will alert your conscious while enlightening you on the structure of our creative universe. Dark Matter is a metaphor for "amateur, informal, unofficial, autonomous, activist, non-institutional, self-organized practices – all work made and circulated in the shadows of the formal art world, some of which might be said to emulate cultural dark matter by rejecting art world demands of visibility, and much of which has no choice but to be invisible," in Sholette's words. The mechanics, tactics, and power of art activism and politicized practices are unveiled with direct references, drawing out the behind-the-scenes of the art world within today's economic landscape.
It's an honor to present Gregory Sholette to you today. Sharpen a pencil and pick up Dark Matter.
Georgia Kotretsos: Currently you're involved with the self-declared artists-in-residence for the US government, the Institute for Wishful Thinking (IWT), which believes that the community of artists and designers possesses untapped creative and conceptual resources that could be applied to solving social problems. Please, tell us about your contribution specifically to this project and your latest work.
Gregory Sholette: In 2008, the noted Hungarian curator Dora Hegyi was seeking work for the 8th Periferic art biennial in Iasi (pronounced "Yash"), Romania, that she was organizing around the theme of "Art as Gift." Because of my writings on gift economies and informal art, she contacted me. I made her some homemade pizza. I told her about the book I was working on that would focus on the political economy of art, especially that vast amount of invisible labor and imagination that the art world is secretly dependent upon (more on this below). The next day, I contacted the artist Maureen Connor, who is my colleague at Queens College and within no time, Maureen proposed the IWT: an ersatz institute whose primary aim is to provide gifts – useful, secret, or fantastic gifts – directly to those invisible souls who labor behind the screen that separates the public exhibition from its managerial apparatus. Who are these people? Typically, they are young, recently graduated, or out of work artists, art historians, educators, and cultural administrators. And if we think of the screen or curtain as the legendary fourth wall in the theater, except that here it is a white-on-white sheetrock wall, then we are not supposed to notice that behind this partition lurks a shadowy species of creative dark matter. At one meeting, we compared this other realm to the Freudian libido and wondered what kind of fantasies of generosity it would call out for. In Iasi, our attempted emancipation led to unexpected outcomes, but first let me tell you a bit more about IWT.
Gregory Sholette, "I am NOT my Office," "Critical Mass" at the Smart Museum of Art, Chicago, 2002
In many ways, the IWT concept sprang naturally from the mutual interest both Maureen Connor and I share in what might be called the imaginative disruption of everyday life by both artists as well as non-artists. For example, Maureen's earlier project, Personnel, investigated the "attitudes, needs, and desires" of office staff where she was invited to create an artwork. One manifestation of Personnel transformed the so-called "personal" space of cubicle workers into a boudoir, and another into a campsite. IWT also resonates with my work, in particular the 2002 installation I am NOT my Office, in which workaday fantasies from the practical – I want multitasking centipede limbs or arms like Shiva – to the maniacal – a flying ear that gathers information on office politics – [are rendered] into a series of drawings and "action figures."
But the real evolution of IWT began when we invited several talented MFA students from Queens College to join us and brainstorm about how to satisfy the fantasies of people we had never met on the far eastern side of Romania. The upshot was to create a website where the Periferic 8 biennial staff could log on and type in the kind of gift they wanted us to fulfill. And there were three categories of potential gifts: 1) a practical gift, 2) a fantastic gift, and 3) a secret gift. Ultimately we brought as many fulfilled desires as we could transport to Iasi including: a modest library of books on art and theory; some photographic materials that were difficult to get in Romania; several felt sleep masks stitched together by agent Kirby as a kind of substitute for a work by Joseph Beuys that the Periferic organizers could not afford to borrow for display; an onsite gift of labor performed by agent Mahler that involved spackling and prepping exhibition walls; a song written and performed by agent Rubin which was gifted to a Periferic staff member who was secretly in love with someone; and finally a stuffed "Kermit." But for a year, this gift request remained a puzzle to us. On the website someone from Iasi secretly asked for a Kermit. But what did it mean? Was Kermit Romanian slang perhaps? Or was it a reference to a certain green television character as we immediately assumed? Did people in the "Eastern Bloc" actually grow up watching Sesame Street? Since it was a "secret" request, we did not have the option of asking more. Instead, we collectively decided that fulfilling certain gifts gave us license to be imaginative, even a bit subversive. In response to the Kermit request, agent De Felice stitched together a batrachian sock puppet, carried it with her to Iasi for the opening, and after walking around the exhibition for about an hour, a Periferic staffer finally came over, accepted the gift, publicly embracing her desire a secret no longer.
To be fair, we also encountered a degree of skepticism from some of the artists in Romania. And not all of it was unjustified, at least on the surface. I do think in retrospect the idea of bringing "gifts" from the wealthy United States to the struggling economy of a former socialist nation seemed a bit cheeky. This was an insight we needed to have more discussion around, as agent Pavlou thoughtfully suggested at a later meeting. At the same time, few in Romania probably realized just how precarious our living circumstances are sometimes in a place like New York City, especially for recently graduated MFA students, like most of the members of IWT. Anyway, [here is a link] for more on this first IWT project in Iasi.
IWT produced its most recent project, entitled Artists in Residence for the US Government (self-declared) for Momenta Art, a not-for-profit space located in Brooklyn. The mission of this project was to "increase understanding of the art making process and how it can contribute to society as well as encourage policy makers and the general public to think of artists as potential partners in a variety of circumstances." I suppose you could say that at a moment when actual governmental and social infrastructure has been decimated after thirty years of privatization, deregulation, and economic contraction at the public level, the IWT seeks to make transparent one of the last remaining sources of untapped collective value: the social imagination of those thousands upon thousands of academically trained artists and art students who constitute an invisible army of precarious, over-educated surplus laborers. Like a redundant missing mass, this shadowy creativity is brimming with the possibility of either radical change or precipitous regression. This ambiguity seems especially striking today in the icy grip of the aptly named "jobless recovery." I will discuss this vibrant dark matter more below, but for now you asked me about my role in this latest project, Georgia, so let me finish here by saying that along with brainstorming ideas with IWT and helping with the physical installation at Momenta, I also introduced our group to THEMM.US, a hitherto unknown collective entity. And although politically unpolished and a bit ribald, their odd little sculptures and experimental thrash songs "for government agencies" were featured on one wall of the exhibition. Funny thing is I am even thinking about collaborating with them on some upcoming project.
The mission of the IWT is ongoing and we encourage new proposals (via our website) that we hope, wishfully as well as concretely, will develop into a new model of support for artists in which they are paid to consult with policymakers and elected officials.
Along with Maureen and myself, The Institute for Wishful Thinking consists of the artists (who are also Queens College graduates): Susan Kirby, Nathania Rubin, Andrea DeFelice, Matt Mahler, John Pavlou, Bibi Calderaro, and Tommy Mintz.

GK: Studying your case, I realized that you do not simply have a studio practice but you rather have an art life which consists of educating young minds, being a practicing artist, a writer, an administrator, an organizer, an initiator, a participator, an activist, and a thinker who looks forward, produces ideas, and generates knowledge. The North Pole is taken, so where do you and your elves operate from?
GS: I am my own "elf." That is why I often work small, turning out only a few art projects a year. But you want to know what Geppetto's little red workshop actually consist of? It's a 5×12 extra room in my Inwood apartment, plus my MacBook Pro loaded with Photoshop. Seriously, I am not opposed to outsourcing the fabrication of artwork when its necessary, but I like making things myself, it's a powerful anecdote to my research and critical writing, even though one is a direct extension of the other (at least to my mind). I have had assistance with a few projects however, and extensively so with my twin websites including from Andrea De Felice mentioned above, as well as Yue Zhang, William Thompson Harris, and the multi-talented Matthew Greco.
Gregory Sholette's studio
GK: If we were to visualize a pyramid where its tip is occupied by mainstream successful artists, does this mean that what's right beneath the tip could all be dark matter? Do activists, struggling and failed artists, hobbyists, and amateurs all fall under one homogeneous enormous category or since art activism has continued to earn art historical ground, it'd be best to place it between mainstream artists and everybody else left in the art world?
GS: Thanks Georgia, this is a crucial question and I hope it is acceptable to ask people to read my new book, Dark Matter: Art and Politics in the Age of Enterprise Culture (Pluto Press, 2011), rather than only download my older essays about dark matter from the Internet. Of course I am plugging my own little capitalist endeavor here, but also significantly, the concept of dark matter or missing mass has evolved over the last ten years. Now when I use the term dark matter, it is meant to invoke two different registers at the same time: one abstract, the other very much concrete. But then thinking in contradictions is something I have learned above all from being an artist.
Dark matter is merely a metaphor, the best I could find, for describing something that has an effect on the mainstream cultural world, but is largely unseen by it. First, think of the art world as an economy with both symbolic and material dimensions. Within this economy, dark matter is both present and absent, detectable at one level, but lacking its own discourse, and therefore all but unnameable. However, (and here comes the contradictory bit), dark matter also describes something concrete, something that has measurable reality, something like the way an offsite archive of key documents adjudicates meaning from afar. So yes, you're correct: this "missing matter" does includes the various informal activities you mention like amateur and hobby crafts and so forth. But it also incorporates what art historian Carol Duncan once described as the glut of artists who never reach visibility. This, Duncan insisted, was the "natural" condition of the art world. What I hope my research and writing begin to do is to intervene in this so-called natural economy by unsettling and possibly re-politicizing the realm of cultural production itself. Ok, that is grandiose. But what I am trying to get at is that like almost everything else today, art is the outcome of social production. And this fact is diametrically opposed to art's mythology that revolves around the isolated artistic genius working alone in her studio. Most of us know this is a fallacy. Still, we allow the economy of the art world to divvy up this socially produced wealth like so much "real estate," as if only a handful of gentry grew above an ever-shrinking commons. Whether this other collective productivity is visible or is hidden, or slides in between both those states of light and darkness, is less the point than to recognize that dark matter production runs through all of these institutions and discourses like a multitude of veins in a piece of marble. That is why the image of the pyramid is less useful or accurate for fully describing art's political economy (even though admittedly, the towering needle with its broad base or long tail is still a powerful and intuitive representation of the unequal recognition most artists feel as they contemplate the mainstream cultural landscape and their assigned place within it). Therefore even before one begins to speak about "political art," or "interventionism," or "relational," or "dialogical," or "participatory," or "philistine" aesthetics (to cite respectively: Lucy R. Lippard, Nato Thompson, Nicolas Bourriard, Grant Kester, Claire Bishop, or John Roberts and Dave Beech), one must first understand there is a political struggle at the level of production. Or as Zizek quipped, "It's the political economy stupid!"
GK: What are your thoughts on the transition of dark matter from the streets, the web, and the wider periphery to the museum, the podium, and the establishment?
GS: In terms of the apparent recognition of a certain previously unacknowledged informal art, well, it's just not the case that street art and home crafts have never been part of the art world. I would argue that such practices have always been not only present, but also influential on artists, but simply not named as such. What has happened in recent years is [that] this shadowy archive of heterogeneous messy sentimental everyday imagination is becoming inextricably more visible. For example, look at the incredible art world success of the Young British Artists in the 1990s. One can clearly see the YBAs directly borrowed from this realm of informal, vulgar, and street aesthetics, as if secretly recognizing that [this] invisible mass was on the rise. However, their response was to snip bits of dark matter off, incorporate this into their art, and tack it to the walls of the white cube. Over a decade later, with greater advances in bandwidth and Internet technology, but also an ever-increasing number of people claiming to be artists (see Chapter 5 of Dark Matter: "Glut, Overproduction, Redundancy!"), this other social production is more and more simply representing itself! I suspect we are on the verge of a kind of P2P art world that will run parallel to that of the one familiar to us now. Will this be a significant advance, politically speaking? Will the structural disequilibrium of culture be overturned and redistributed more equitably? In other words, will art world real estate – its assets and symbolic power — be transformed back into something of a commons (though I doubt it ever was that)? These are the critical questions my book seeks in the end to raise with regard to so-called dark matter. And all the while, I am very cautious. Cautious about the mainstream museums and art collectors who are interested in street art, cautious about the way certain corporate interests are salivating over the rise of consumers who produce their own creative content, aka Prosumers, and cautious about the new interest in "social practice" art. Recalling the way "political art" in the United States became a fleeting fashion in the art world of the late 1980s and early 1990s, my antennas of apprehensiveness are twitching madly these days. Let me just cite one quote from Wired magazine that I use at a crucial juncture in my new book:
Previous industrial ages were built on the backs of individuals, too, but in those days, labor was just that: labor. Workers were paid for their time, whether on a factory floor or in a cubicle. Today's peer-production machine runs in a mostly nonmonetary economy. The currency is reputation, expression, karma, "whuffie," or simply whim.

— Chris Anderson, editor of magazine Wired, "People Power Blogs, user reviews, photo-sharing—the peer production era has arrived," Wired, July 2006.
What is invigorating therefore about this explosion of the shadow archive is that it is filled with potentially positive elements and processes like gift economies and P2P productivity. What is not good is that it is already being selectively filtered for incorporation into the values structure of capital. That is one place where a political struggle must be waged. But what is equally or perhaps even more of a concern in the short run is that what I am calling dark matter is also permeated with reactionary, regressive elements. The Tea Party or the Minutemen militias are but two examples. And no doubt there are versions of these anti-democratic tendencies even within our own artistic ranks.
GK: Asking you all the way from Greece, what does economic crisis produce? What have we learned from the past?
Syntagma Square, Athens, Greece, May 25th 2011: Taking the lead from Spain, thousands of people gathered at Syntagma square on Wednesday to protest against austerity measures, responding to a grassroots Facebook campaign. The crowd sings the Greek National Anthem.
GS: For us as artists and cultural workers, it comes down to developing a viable, democratic, counter-narrative that, bit-by-bit, gains descriptive power within the larger public discourse. That said, we first must begin here with us artists, and what we do, and how we create by gaining an understanding of the potential transformative power of this missing creative mass that we are talking about and that we also embody. We need to ask how to use this vibrant inert mass to intervene within the political economy of culture understood as an everyday form of production.
Gregory Sholette at work. Photo credit: Sarah Hudson
And that's a wrap!
________________________________________
art:21
Action Figure encased. Photo courtesy Gregory Sholette
Artist, scholar, organizer, and professor, Gregory Sholette embodies multiple ways that artists can interrogate history, politics, and public discourse. Through his initial work with the group REPOhistory (1989-2000) (as in, "repossessing history"), he, along with other art groups and individuals of the 80s and early 90s, effectively drew attention to the artist as a social and political actor. Sholette's collaborations with REPOhistory also presented art works as vehicles for addressing submerged socio-political histories, such as in the group's Lower Manhattan Sign Project (1992-1993), in which they posted signs around Manhattan offering information about "the unknown or forgotten history of Manhattan below Chambers Street." Sholette has also been an active participant in PAD/D (Political Art Documentation and Distribution [1980-1986]), an organization devoted to the publication and distribution of documents regarding the intersection of aesthetic politics and activism. Most recently Sholette has founded an archive for futures that "never happened" (The Imaginary Archive, 2010-present), and has been involved with The Institute for Wishful Thinking, an organization that attempts to harness the "untapped" potential of artists by soliciting proposals for projects which might effect governmental and social change.
Despite Sholette's robust participation with other artists and activists and his tendency to only exhibit his own work in group shows, the works and projects he has produced independently of collaboration feedback vitally into a more collective practice (something he discusses at length below and in a previous "Inside the Artist's Studio" feature). Meeting Sholette in person, I was struck by his interest in subjects ranging from the popular to the occult and counter-cultural. Sholette's range of interests are brought to a focus in the book Dark Matter: Art and Politics in the Age of Enterprise Culture, in which he considers artworks that have fallen through the cracks of official art-historical discourse. Such works offer sites of (potential) resistance and autonomy inasmuch as they are not perceived as "art" proper and so remain liminal to the expropriative tendencies of cultural capital. Works by the "outside" artist, the craft artist, the hobbyist, the amateur, and the self-critical "drop-out" appear throughout Sholette's book, offering examples, if not models, of what art can do guided by different values and habits.
Mole Light installation at Plato's Cave, Bklyn, NY. Courtesy Gregory Sholette.
After the work of the film-essayist Chris Marker or the literary theorist Walter Benjamin (two professed heroes of the artist), Sholette turns his attention to the abandoned and unattended, cultural products so prosaic that they would seem neither worthy of our critical attention, nor our powers of reappropriation. The stuff ripe for re-use in Sholette's work one would hardly call "redemptive," and yet something is redeemed through the artist's taking them up—a potential to make legible things just below the attention, what becomes "dark matter" because the culture at large just doesn't know where to put it. Through the use of action figures in particular, a preferred format of hobbyists, he addresses problems ranging from post-Fordist labor practices (i am NOT my office, 2002-2004) to representations of Italian Fascism (Deconstructing Mussolini, 2007) and the exploitation of child workers (Little Workers Collectibles).
Sholette's dirty messianic approach also comes across in his appropriation of dioramas, window and museum displays, and souvenirs. Playing upon our familiarity with these 19th century formats, Sholette moves fluidly between sentimentality and criticality, ironic abandon and the recognition that, as Walter Benjamin famously wrote (and Sholette quotes through a particular work of his citing the relationship between John D. Rockefeller's founding of the New York MoMA and management of his public image after a mining disaster): "There is no document of civilization which is not at the same time a document of barbarism." Moving within the flicker of "civilization" and "barbarism," Sholette tells history slant, through the eyes of the losers, the unrecognized (and unrecognizeable), citing the places where anomalies and antagonisms crucial to history's retelling "flash-up."
Detail from "Mole Light." Courtesy Gregory Sholette
Oriented by the Cold War era (as he recognizes below), Sholette's analysis of barbarism and civilization deconstructs American exceptionalism in the post-war period, particularly the ways that American art and the management of its geopolitical interests intersect. In his video Return of the Atomic Ghosts (2005), for example, Sholette spoofs extraterrestrial cover-up documentaries in order to reveal another cover-up of the previous half-century: the US government's involvement in countless foreign coups, assassinations, and occupations.
In his bas relief, Men Making History/Making War, Sholette draws attention to the US government's use of Jackson Pollock and other Abstract Expressionists to wage culture war against Soviet communism. In yet another work, Preparing for War (1983), exhibited at the Brooklyn Naval Terminal just before the US invasion of Grenada, he questions links between avant-garde Modernist art and the causes and repercussions of World War I, reproducing works by Duchamp, Picasso, Brancusi, and others from the period preceding the "great war." Preparing for War reflects on the connections between war, nation building, and avant-gardism (a military term before it was used to describe certain art attitudes and practices). In another work, Express Yourself (1993), Sholette bronzes his American Express card, placing it among other bronze reproductions of well-known Expressionist art works. The message is clear: art is no longer the privileged site of self-expression (if it ever was) during a cultural moment in which buying power and creative potential (expression) are equated.
Buffering the seriousness of his political and social commitments, and his unflinching belief that art can intervene effectively in public discourse (if only through its counter-cultural potential), is a sense of the weird and wondrous, a commons of the odd. One gets this sense from a recent photo-installation work, Mole Light: God is truth and light his shadow (2010), wherein one views a series of cartoon eyes accompanied by thought balloon with quotations from Plato, Marx, Courbet, Glenn Beck, Snow White's Grumpy, and others. In another work, appropriating the format of 50s television and radio commercials, Sholette provides a "recipe" for real estate futures (Cooking Up Real Estate Futures for Lower Manhattan, 2006). Heating up a track of land in Iraq through continuous missile fire, one need only cut out the piece of land and transplant it to Manhattan. Few artists I know strike so boldly and lovingly at the heart of the American project, creating sites where the American obsession with novelty and consumerism can collide with its geopolitical realities.
A sketch of George W. Bush from Sholette's notebooks. Courtesy Gregory Sholette
1. What is your background as an artist and how does this background inform and motivate your practice?
Post-war America filled art schools with optimistic young artists like me: born in the middle of last Century from white, working class (but also home-owning) parents and taking seriously John F. Kennedy's claim that the artists was "the last champion of the individual mind and sensibility against an intrusive society" [from a speech by President John F. Kennedy given at Amherst College on October 26, 1963]. I imagined a future in which labor and pleasure converged. Then came the political and economic trauma of the late 1970s and early 1980 –the years I really began to come of age while moving to New York City from Philadelphia– which was not so much an end to that spirit of hopefulness, as much as it was a re-grounding of expectations within an oppositional space out on the far periphery of the art world.
2. Do you feel there a need for the work that you are doing given the larger field of visual art and the ways that aesthetic practices may be able to shape public space, civic responsibility, and political action? Why or why not?
Work is a necessity. It defines us. I do not mean employment defines us, or your job defines us, or even "productive" work defines us (whatever that may be today). Rather simply the activity of being in the world requires us to exert a material force within it and sometimes against it (just as it in turn pushes against us). This definition of work of course includes both physical as well as mental capacity, and it could also mean refusing to be productive like the character Bartleby the Scrivener in Melville's classic tale. Why? Because refusing to be productive is also a kind of activity that requires working at not working if you like. The young Marx put it most succinctly when he wrote that a human being only really works in the fullest sense of that word when free from the bridal of necessity. Being chained to the needs of the market economy is therefore the opposite of freedom.
Detail from "The Imaginary Archive." Courtesy Gregory Sholette.
This is where culture comes in. In the minds of most people the artist is the epitome of non-productive work. More than that, the artist also represents a kind of non-socialized work. She stands apart from the communal coil, traveling her own road, and that means the artist exists at the exact point of friction where the autonomous individual and the collective social need collide. At least this is the common character of the "artist": a slightly or seriously anti-social human being. Most likely this sentiment leads to the always-present anxiety so many people (including those in the art world) express towards art that is produced collaboratively or collectively. My artistic labor consciously engages such acts of collaboration and collectivity. They become central to my production as an artist, and in fairness as a writer and teacher. I think some of these concerns are thrashed out in my new book Dark Matter: Art and Politics in the Age of Enterprise Culture (Pluto Press, 2011). But does that mean any of this work is politically responsible or socially necessary?
While that is a fair question, Thom, I think it tends to collapse the contradictions mentioned above, contradictions between work and non-work, individual and social that are inherent to cultural production. Maybe a different question to ask is what necessary role does the non-social, and the concretely material play within the emerging arena of community art and social practice art? To put it differently: how does one learn to embrace not only an agency that is socially generated, often the easy part of a project, but also the active or inert resistance of a specific urban space or history or historical archive? This material resistance sometimes can be constructive, giving us something to push against. At other times it can stand in stolid opposition to our intentions, no matter how good they appear to be. It is a question that I think needs to be addressed right now especially as these civically-inspired artistic practices gain purchase within the worlds of contemporary art and academia. (Neither are these contradictions absent from my own "work.")
Materials from "The Imaginary Archive." Courtesy Gregory Sholette.
3. Are there other projects, people, and/or things that have inspired your work? Please describe.
Moby Dick
The poetry of Bertolt Brecht
Chris Marker's films Sans soleil and La jetée
The dioramas at the American Museum of Natural History
Martha Rosler's videos, essays, and pedagogical texts
Andrew Heminway's treatise Artists on the Left
Coleoptera (which make up 25% of all known life forms)
J.P. Gorin's docu-fictional cinema such as Routine Pleasures
Weird new groups like themm.us
Carol Duncan's scholarship on museum semiotics
Hans Haacke's installations, public works, and critical research methodologies
NYT coverage of "Little Workers Collectibles." Courtesy Gregory Sholette
4. What have been your favorite projects to work on and why?
Certainly I am most proud of the work I did with REPOhistory in the 1990s, but especially the project CIRCULATION, whose concept I conceived of in 1995 and which the group realized in 2000. I am also very pleased with Mole Light: God is truth and light his shadow (2010), a site-specific installation I made for the unique exhibition space Plato's Cave in Brooklyn.
Perhaps my all time favorite art "work" from the years past is Insurrection (1984) – a long, horizontal wall piece made with wax, latex, wood, plastic, paper, and a silkscreened text that measured 36″ x 106″ x 8″ inches. Insurrection was based on the writings of Ephram Squire who in 1849 was the Charge d'affaires for Central America under President Polk. The text describes Squire's view that the non-white peoples and strange zoology of the region (now known as Nicaragua). He goes on to state that this odd flora and fauna will inevitably be superseded by the northern, animal and plant life (and its people will be supplanted by the "white race"). "Deus Vult – it is the will of god" he proclaims in the 19th Century language of Manifest Destiny. But in my piece, his words are gradually engulfed by a mat of foliage and flowers recreated using techniques I learned from a friend – Michael Anderson — an artist and exhibition technician who once worked on the dioramas at the American Museum of Natural History. The piece was made with assistance from Anderson and was exhibited as part of the Artists Call Against US Intervention in Central American in 1984
Detail from "Insurrection." Courtesy Gregory Sholette.
5. What projects would you like to work on in the future? In what directions do you imagine taking your work?
Right now, I am working on several new installations that combine conceptual and sculptural elements that grow out of and feed into my research on "Dark Matter." All will be realized in collaboration with people I both like and admire:
Imaginary Archive is a collection of both real and fictional documents describing a future whose past did not exist (or a past whose present does not exist). The work takes the form of booklets, newspapers, small constructions, posters, some of which I created and others produced by a group of invited artists. Its first version was installed last June at Enjoy Public Art Gallery in Wellington, New Zealand (2010), and Imaginary Archive will continue as a second chapter this November at Gallery 126 in Galway, Ireland for the Tulca Arts Festival (2011).
The other project I am working on is Islands. It will open in February 2012 and is being made for the massive panorama of New York City at the Queens Museum of Art. Once again, this project will involve a group of collaborators, however this time I am interpreting their ideas, not asking them to make things. About ten people known for their critical writings about social practice art are being asked to imagine an island that appears unexpectedly off the shoals of New York City right after the ten-year anniversary of the 911 attacks. What kid of solitary land mass does someone concerned with social and political art envision? Will it be a communal space or more diffident, even private? I will be fabricating these visionary, scale-model islands and then have my collaborators pose with them before adding the islands (temporarily) to the QMA panorama.
Finally, I will also contribute to Temporary Services project for Creative Time's Living As Form at the Essex Street Market in Manhattan in the Fall.
"Express Yourself" detail. Courtesy Gregory Sholette.
________________________________________
Greg Sholette: Do It yourself Art Action Kit! (includes interchangeable tools and body parts)
By Jeffrey Skoller © 2004
Reprinted with permission of the author.
The Greg Sholette art action figure comes out of the box a seemingly genteel, artist type, slightly bohemian looking, with a nicely trimmed beard (included) and wearing a tweed sport jacket (optional). Only the wrestling shoes (included) belie his true nature. In an instant he has removed his coat, and unpacked his artist action toolbox (included) and things begin to happen. Sholette's toolbox comes with the requisite brushes and chisels as well as self annotated pocket-sized editions of Brecht, Benjamin and the Psychotronic Encyclopedia of Film. The kit includes Sholette's own multi-media art works combining elements of sculpture, photography, drawings and text as well as copies of his writings on the history and theories of contemporary arts activism that inform all of his work. The Sholette Kit reflects twenty years of experience in cultural organizing that has created some of the most innovative artist's collectives of the last two decades. These, along with his activities as an exhibition curator, college educator, professional toy model builder and a public intellectual tirelessly speaking for alternative relationships between art practice and the public sphere has made the Greg Sholette art action figure paradigmatic of the post-studio artist/thinker/activist who emerged from the 1980s.
If the dominant history of the American art world of the last twenty years is identified with the "re-materialization" of the art object to be bought and sold in the high stakes art market, linking art practice with high finance and the spectacle of US celebrity culture, then there is also a counterhistory of that period that can be identified through the post-studio art practices as embodied by Sholette. Such counterpractices have been less concerned with the commodification of culture and artistic auteurism than with working to create art committed to critical practice and to redefine the role of the autonomous artist into citizen participant, asking questions rather than simply making commentary. He asks: in what ways does art perpetuate dominant ideologies and work to discourage dissent? In what ways can art practice be used to disrupt and expose the naturalized social structures that operate—often invisibly—within daily life. How, in political terms as well as in the most personal ways, might artists work to integrate aesthetic practice into everyday life? Of course, these questions are not new and have been asked by socially engaged artists and thinkers from Brecht and Heartfield to Haacke and Rosler. As a child of this history, Sholette's practice continues a tradition that focuses on art making as a mode of production deeply tied to the material conditions of our society. Walter Benjamin wrote in 1934, "Rather than ask, 'what is the attitude of a work to the relations of production of its time?' 'I should like to ask, what is its position in them?'1 Similarly, Sholette explores what it means to be an artist in his own time—rather than maintaining the idea of timeless autonomous individual expression (as if such a notion were possible).
Since 1980, Sholette has produced an extraordinary body of work that not only includes the individually produced works of art seen in this exhibition, but also numerous essays theorizing relationships between social and political issues and their aestheticization.2 In all of his work he examines what it means to place art practice at the service of social transformation and to engage the issues of the day in aesthetic terms. In what ways do the meanings of social histories and political issues change as they enter into institutions of culture, from the museum or university to the highly controlled streets of a specific community? Combining theory with practice, Sholette is not simply interested in what it means to make politically thematic art, but also what it is to make art politically. Practice itself becomes a discourse that opens beyond the individual artist working alone in his studio. Looking toward earlier models that focused on collective activity, such as the Berlin Dadaists, Russian constructivists, and the New York Photo League, and also in the contemporary context, of such collectives as the Critical Art Ensemble, The Art Workers Coalition, Paper Tiger TV, Group Material, Gran Fury, the Guerrilla Girls, among others, Sholette has extended his practice into collaborative, collective and community based projects. Often working collaboratively with the artist Janet Koenig, he has created installations and public art projects in which the labor of research and production as well as the creative problem solving is shared. One such collaborative piece, disLOCATIONS (inSITE94, 1994), a site specific installation at the Tijuana/San Diego border, looks at histories of resistance at the border at the turn of the twentieth century, creating links between past events and the current situation at the US/Mexico border.
"How do we work together?" must always be the first question for cultural workers struggling to transform any society. Sholette's work with artist's collectives subverts the idea of individual authorship entirely, exploring the creative dynamics within the group of artists while making public art projects that includes members of the community in which they are working. Sholette was a founding member of PAD/D (Political Art Documentation and Distribution) in the early 1980s. PAD/D created a series of exhibitions taking up specific political issues facing their community in New York City, such as the "Not for Sale Project" which examined the contradictory ways artists both facilitate and disrupt the gentrification of poor, urban neighborhoods. PAD/D's activities included an archive of international activist art projects to preserve the histories of such practices, and a reading group for artists to explore relationships between theory and practice. In 1989, Sholette co-organized the collective REPOhistory a forum for developing public-based art projects. Their object was to retrieve and relocate hidden historical narratives at specific locations in New York and elsewhere by creating counter-monuments, actions and events. In making art for public spaces, artists are thrust into the political workings of the community. They are forced to become curators, educators and politicians as they engage with neighborhood organizations and city governments rather than museums and galleries. Public art projects such as the REPOhistory's Lower Manhattan Sign Project (1992), Civil Disturbances (1998) and CIRCULATION (2000) in New York City, and Entering Buttermilk Bottom (1995) in Atlanta, GA, brought together political activists, academics and artists, doctors, lawyers, unions organizers and historians, all working in their communities to confront their own submerged, half forgotten histories "to provoke critical and multiple readings of the past."
Sholette has preferred to exhibit his own work in collaborative exhibitions largely in not-for-profit galleries organized around specific issues rather than foregrounding himself as a solo artist. His work has been part of many of the defining political art exhibitions of the last twenty years, including: Disinformation: the Manufacture of Consent (1985), Power and Money (1987) "Unknown Secrets: Art of the Rosenberg Era" (1988); Committed to Print (1988); If you Lived Here (1989); Artists of Conscience: 16 Years of Social and Political Commentary (1991), Carnival in the Eye of the Storm, War/art/New Technologies: KOSOVO (2000); Critical Mass (2002). This current exhibition brings together, for the first time, a collection of Sholette's non-collaborative work made since the mid-1980s — much of which was created for these earlier exhibitions. Together, they show the ways his ideas about practice are transformed, through the play of materials, forms and visual signifiers, into art works. It might be said that Sholette's art works constitute theory by other means, a different kind of rhetoric, engaging a wide range of political histories and art world events. They comment on the transformation of social and political events into commodifiable aesthetic objects, raising questions about what it means to "do" political activism in the context of the museum and gallery.
The imagery in Culture and Barbarism (1990), and Men: Making History: Making War: 1954 (1987) cuts across history, bringing seemingly disparate events into relationship. Walter Benjamin's famous adage, written at the height of Nazi conquest in Europe, applies here: "There is no document of civilization which is not at the same time a document of barbarism."4 These pieces examine the paradoxical ways in which the high mindedness of the institutions of culture becomes a mask for the brutality with which the American ruling class, the financiers of these institutions, maintain political power. Culture and Barbarism (1990) resurrects the memory of the Ludlow Colorado massacre of 1915 in which over twenty striking miners and their families who were attempting to organize a union were killed by company guards at the order of mine owner John D. Rockefeller. Sholette connects Rockefeller's attempts after the massacre to resurrect his image as a humanist philanthropist with his family's founding of the Museum of Modern Art in New York. Connecting these historical moments to the present, Sholette, whose own art work was shown at MOMA in 1988, considers how artists and their work are always implicated in a complex set of relations that connects them to the economic and political histories of their culture even as they try to transform them.5
Men: Making History: Making War: 1954 (1987) is a triptych combining photographs of hand made models and faux bas reliefs based on archival photographs from the American cold war politics of 1954: A sculptural miniature based on a photograph of Roy Cohen during the Army McCarthy hearings; a bas relief depicting the CIA overthrow of the democratically elected president of Guatemala, Jacobo Arbenz; another bas relief image, sculpted from a LIFE magazine photo of Jackson Pollock creating one of his famous abstract drip paintings. The juxtaposition of these events connects the famous abstract expressionist to cold war politics through Rockefeller sponsored international art exhibits of North American art — especially in Latin America. Such traveling exhibitions of abstract art were used to demonstrate US cultural freedoms — in distinction to conservative Soviet style socialist realism — while deflecting attention from the brutal anti-communist political repression in the US and surrounding countries of the time.
In Massacre of Innocence (1989), Sholette raises crucial questions about the ethics of the redemptive nature of art. In this chillingly beautiful meditation on the horrors and atrocities of war, he has created a photographic panorama of lush and colorful images of jungle flora and fauna, an idealized movie set of a utopian Shangri-la. As we look closer, however, we see it is all fake, an artificial construction. Amongst the faux shrubs and flowers are images of the murdered Vietnamese children at My Lai, toy plastic soldiers and dolls. Surrounding the piece are lists of places throughout history where children have been killed in wartime massacres — from Latin America to South East Asia and elsewhere. The rhetoric of the necessity for convulsive violence to create a better world for our children is shown as a hollow rationalization for their victimization. Sholette's work suggests that the transformation of historical events into aesthetic objects, a transformation that attempts to redeem historical horrors through the promise of a higher form of aesthetic consciousness, often only diminishes or distorts the reality of their occurrence. In the words of Leo Bersani this can create the condition for "[t]he catastrophes of history to matter much less if they are somehow compensated for in art, and art itself gets reduced to a kind of superior patching function."6
A highly trained sculptor who also spent several years as a professional model builder for toy and advertising companies, Sholette uses the materials of model building to create a faux lexicon of actual forms that refer to this redemptive impulse to create and hold onto cultural knowledge. In Culture and Barbarism, Sholette uses the traditions of the diorama — a scale model of the Museum of Modern Art is juxtaposed with a miniature encampment of the striking miners who were murdered — to suggest the discourse of historical display familiar in natural history museums. Similarly, Sholette explores the use of archaic bas-relief sculpture that in other eras was used to depict heroic scenes of battle. In The Massacre of Innocence Sholette works with the mise-en-scene of movie and stage design that at a distance seems real, but whose ersatz nature becomes clear upon close inspection. With all of these forms, he creates unsettling relationships between the timeless monuments to past events built of stone or brass and their cheesy plastic recreations — faux antiques that seem to be falling apart as soon as they are made. Sholette is not simply making objects; he is also playing with the ways objects function as signifiers of social memory. On a grand scale, institutions such as museums, libraries and archives, housed in majestic edifices, are created to provide that function. On a more quotidian level, natural history dioramas, brass plaque markers, bas-relief narratives, souvenirs, and toy models are also imbued with the energies of memory and history. As Sholette writes:
"I have chosen to work with these familiar, 'middle-brow' forms because they navigate a narrow line between irony and innocence, the sentimental and the uncanny. Like portable icons I imagine these mementos invoking sentimental longings as well as everyday life and small-scale histories."
The unifying interest in all of Sholette's practice is transformation. He is not only concerned with the most idealistic possibilities for social transformation, but also with how the meanings of events and images transform as they move through time. His art works take up the ways in which events in the world are appropriated as subject matter, become aestheticized, and finally are turned into commodities. In his Jacob Riis Series (1995/96), Sholette considers ways artists appropriate images intended as documentary evidence and transform them into aesthetic spectacles, often erasing the original political intent behind the imagery. In this work Sholette uses photographs made by the 19th century liberal social reformer Jacob Riis, who photographed the squalor in which the underclasses lived in the hope of changing it. As time has gone on, such documentary photography has become part of a fine art genre in which their meaning as documents of a social critique recedes, while sentimental, empathic rendering of human suffering takes precedence. Sholette has created five photographic panoramas of his own miniature dioramas based upon a Riis' photograph of a group of children playing around a water barrel on the New York City's Lower Eastside. Sholette uses Riis's photograph as a springboard to consider the way social groups and classes are objectified within the cultural imaginary, suggesting multiple narratives for both the images themselves and for what is going on in them. Sholette uses the three dimensional model as a kind of movie set through which he can examine the image from the position of the street kids, from that of the photographer who is seen as a character in this scene, and from the viewer who is voyeuristically implicated in the spectacle of squalor. Different panels in the series reference early cinematic genres that appropriate the social inequities of urban life as the mise-en-scene of "real life", use of images of impoverished street children in mass entertainment like the "Bowery Boys" and "Spanky and Our Gang", and more nightmarish visions of urban life such as Fritz Lang"s M. This kind of appropriation of the image of poor children is an artistic tradition that spans the rise of popular art from the urban realist novels of the nineteenth century to current hip-hop movies set in the urban ghettos from Los Angeles to New York. Throughout the diorama there is the enigmatic image of the photographer (Riis) setting up the pictures, many of which were clearly posed for dramatic and /or aesthetic effect. Social reality, for both Riis and Sholette, is seen as a series of simulations, appropriated, aestheticized, and re-imagined. The Jacob Riis Series is particularly unsettling because it is so engaging to look at. The complete five panel series runs nearly 30 feet long and is beautifully crafted. The models are so playful, imaginative, and meticulously made that one becomes conscious of the ways materials and modes of representation heighten our sense of ourselves as spectators of art works. Simultaneously they force us to confront the contradictions of having an aesthetic experience at such a distance from the social realities that the pieces depict.
In the most recent work in the exhibit, i am NOT my office (2002), Sholette continues to explore his use of such hand-made "meta-objects," this time taken more directly from popular culture. For this piece Sholette has created models that emulate homemade "garage kit" action figurines based on sci-fi and action movies and comic book imagery in order to connect his work with the sub-cultures of amateur art making. Such creative sub-cultures also include home-made 'zines and websites, music and video scratch mixing, home movie making as well as various craft practices. Referring to this kind of work as the dark matter of the art world, Sholette contends that although it remains largely outside the discourses of the art world, it maintains a symbiotic relationship with that world which is both creative and economic. The majority of contemporary creative activity, he feels, takes place as this sort of dark matter art, indicating the widespread desire that people have to participate in creative labor whether or not they are acknowledged as legitimate artists.8 The installation i am NOT my office explores such notions of artistic dark matter in possible relationships between activist art forms created by trained intellectuals and artisans such as himself and the more informal creative work of the amateur artist/hobbyist who exists quite apart from the art world. Sholette is interested in the potential such non-professional artist cultures might have for creating unexpected forms of autonomous, politically engaged activist art that might occur outside of centralized art world contexts such as museums and galleries.
"i am NOT my office brings Sholette's longstanding interests in collaboration together with his faux model building aesthetics and reflexive ruminations on the life of the artist in today's society — in this case as the consummate multi-tasker. To create the piece, Sholette sent questionnaires to a range of office workers asking them to describe their fantasies of the kinds of "super powers" or prosthetic devices they wished to possess in order to be able to do their personal creative work while completing the tasks they were being paid to accomplish on company time. People desired the power to stop time, as well as wanting a range of cybernetic enhancements of their bodies, from detachable ears and multiple limbs to brain implants which enhance intelligence and memory. From these fantasies, Sholette began making drawings and then models, creating enhanced action kit figures that turn into working class versions of the fantasy artist/worker hero. Sholette, who earns his living as an arts administrator and professor, aligns himself with those who also struggle to balance routine administrative work with creative art making and imagines his own spleen transforming into a huge tentacle that could continue to work on his drawings while his hands do the voluminous administrative tasks that his job requires. i am NOT my office considers how, on the one hand, artists must juggle the multiple roles they play in order to maintain a creative life, and, on the other, how the suppressed or latent creative energies of people doing routine jobs not generally associated with art making, are expressed in the work place. In political terms, it asks how the surplus creative energy of workers at highly structured jobs can be harnessed for self and community empowerment. More overtly than in his other pieces, Sholette engages a lexicon of aesthetic forms that exist outside of high culture in an attempt to reflect more precisely the desires of those outside of his own cultural and class milieu. As a professionally trained artist he has no illusions about becoming part of the world of amateur art making — nor is it really his interest. Rather, as he writes, "I can borrow and re-tool examples of this informal culture for purposes of social critique and reflection."9
With i am NOT my office, as in much of his work, Sholette can be seen as a postmodern pasticher playfully emulating and appropriating other forms of cultural imagery to create new hybrids between high and low cultural forms. At the same time, he is the consummate modernist attempting to place aesthetic activity at the service of an even more ambitious project, that of transforming society. In doing this Sholette is not simply trying to create an image of how others struggle to live a creative life. He is also reinvigorating high art discourses by connecting popular fantasy with utopian notions of a society that satisfies the material needs of a work force and cultivates the libratory potential of personal creative expression. If the realm of fantasy is a stage on which contemporary culture can be re-imagined as a humanizing force which places democratic creative expression at the service of the most idealistic aspiration for social transformation, then the Greg Sholette Art Action Kit, like all the other action kits fighting for social justice and new ways of living together, is not simply a fantasy — but a necessity. Now's the time!
Jeffrey Skoller is a filmmaker who writes frequently on experimental art. He is the author of the book Shadows, Specters and Shards: Making History in Avant-Garde Film from the University of Minnesota Press. He is currently Associate Professor of Film/Video/New Media at The School of the Art Institute of Chicago.
1 Walter Benjamin, "The Author as Producer" Reflections. New York: Harcourt, Brace Jovanovich. 1978. pp. 222.
2 See Sholette's website for a complete bibliography of his writings, many of which he has made available on line.
3 See REPO history website for detailed histories of their community based projects between 1991 and 2000.
4 Walter Benjamin. "Theses on the Philosophy of History" Illuminations New York Shocken Books. 1969. pp256.
5 As part of the exhibition Committed to Print The Museum of Modern Art, New York. 1988.
6 Bersani, Leo. The Culture of Redemption. Cambridge, Mass: Harvard UP, 1990. p1.
7 Artist's Statement: See Sholette's website.
8 Sholette borrows the term from the science of cosmology, which refers to the theory that there has been an enormous amount of invisible material created by the Big Bang, which has never been directly perceived but can be inferred by the errant motion of astronomical objects in outer space. For a complete discussion of Sholette's analogy see "Dark Matter, Activist Art and the Counter-Public Sphere" in Marxism and Visual Art Now London: Historical Materialism. Forthcoming, 2004.
9 Artist's statement from the exhibition "Critical Mass" The Smart Museum of Art, University of Chicago, 2002.
Click here to download the full essay in pdf format.
________________________________________