Imaginary Archive:

A collection of documents about the past whose future never arrived
There is something appealing and strangely seductive about half-forgotten places like the bookstore located (until recently) inside the George Washington Bridge bus transfer station at 178th Street in Manhattan. For one thing, the store seems hard at work repelling rather than attracting potential customers. Pulsing with a cold, blue-tinged florescent light its sparse goods ––books and a few music CDs–– are placed haphazardly on
rusted wire display stands or arranged edge-to-edge,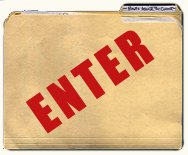 rather than cover-to-cover, in order to fill up the available display shelves that sag at their centers, some also shedding a powdery dust made of an unknown synthetic material supposed to resemble wood. There is simply too much store in relation to its merchandise…(know more)
Imaginary Archive: Zeppelin University Edition (Germany) with Visionary Architect Marcel Kalberer

Sept 12th-Nov 26th
White Box at Zeppelin University, Friedrichshafen, Germany
With special thanks to Professor Dr. Karen van den Berg, Curator of Fine Arts Ulrike Shepherd, Bettina Pfuderer and the ZU Facility Management, as well as IA co-collaborators Olga Kopenkina and Matt Greco for their all around support.
And to the White Box installation crew including: Caroline Brendel, Jona Kalberer, Laura Niemann, Toby Eckert, Friederike Kötter, Lena Mehner, Mathilde Nadeau, Maria-Luisa Villena, Christina Buck, plus the architects Prof. Eugen Rabold und Markus Müller for researching leads, Ingrid Feustel from the Hoffmann-Lederer archive and Hilde Corbo from the Narrenzunft Seegockel for materials, und Karl Heinz Mommertz for essential research.
Imaginary Archive is an ongoing project with upcoming chapters in:
Egypt?  Poland?  Moon Base Alpha?  Mars Pioneer Colony?
Imaginary Archive: Zeppelin University (2015) Here
Imaginary Archive: Philadelphia (2015) Here
Imaginary Archive: Kyiv (2014) Here
Imaginary Archive: Graz (2013) Here
Imaginary Archive: Galway (2011) Here
Imaginary Archive: The Wellington Collaboratorium (2010) Here
Jennie Guy taking a queue from IA Here
Press
Ben Geoghegan's Blog on Imaginary Archive: Galway Here
Imaginary Archive: Galway Press Release & Artists List Here
Reviews
Enjoy
The Big Idea
Wellington Scoop
Plausible Art Worlds
Pravda