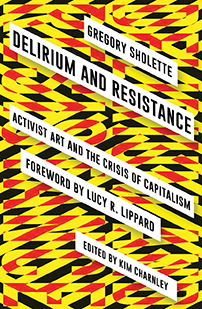 Delirium and Resistance: Activist Art and the Crisis of Capitalism, Gregory Sholette, Pluto Press, 2016

Capitalist crisis does not begin within art, but, as Gregory Sholette argues in Delirium and Resistance, art can reflect and amplify their ideas. In this follow-up to his influential 2010 book, Dark Matter: Art and Politics in the Age of Enterprise Culture, Sholette engages in critical dialogue with artists' collectives, counter-institutions, and activist groups to offer an insightful, firsthand account of the relationship between politics and art in neoliberal society. Sholette lays out clear examples of art's deep involvement in capitalism: the dizzying prices achieved by artists who pander to the financial elite, the proliferation of museums that contribute to global competition between cities in order to attract capital, and the strange relationship between art and rampant gentrification that restructures the urban landscape. With a preface by noted author Lucy R. Lippard and an introduction by theorist Kim Charnley, Delirium and Resistance draws on over thirty years of critical debates and practices both in and beyond the art world to historicize and advocate for the art activist tradition that radically—and, at times, deliriously—entangles the visual arts with political struggles.

"Read this book and you will never see contemporary art the same way again. So much of what's wrong with the global economy is wrong with the establishment art world and Sholette has been examining this for a long time in everything he does as an art person. In the many art worlds that exist, we're happy and proud to be a part of his." – Guerrilla Girls

"Sholette is representative of a new artist type that emerged after Conceptualism in that his work as a critic, theorist, and curator is central to his practice as an artist. No-one else has come up with a category that rivals 'dark matter' as a hermeneutic for analysing the current political economy of art and the economic situation of artists, in all their variety. No-one else has quite the long-term commitment to collective practice or the record of publications on the theme. He is one of the most cogent artist-theorists currently working in the domain of social practice art." – Andrew Hemingway, University College London

"Shifting between artistic practice, curating, writing, and activism, Sholette has been surfing the waves of activist art for more than three decades. His work is based on the multitude of lines drawn from the political art of the 20th century and expanding its realm as it reaches out to the transversal activisms of the 21st century. Delirium and Resistance is a manifesto documenting these developments in their broadest forms, from 1980s anti-gentrification efforts and 1990s tactical media practitioners, to the post-occupy-practices of our current circumstances." – Gerald Raunig, author of DIVIDUUM: Machinic Capitalism and Molecular Revolution, Part 1

Available from University of Chicago Press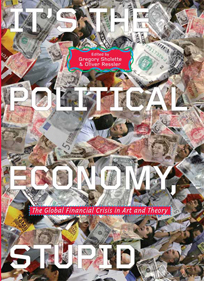 It's The Political Economy Stupid: Edited by Greg Sholette and Oliver Ressler, Designed by Noel Douglas, Pluto Press, 2013
It's the Political Economy, Stupid brings together internationally acclaimed artists and thinkers, including Slavoj Žižek, David Graeber, Judith Butler and Brian Holmes, to focus on the current economic crisis in a sustained and critical manner.
In sympathy with the subject matter, the book features powerful original artwork for the cover, and an internal design theme based on the movements of Goldman Sachs stock market values by activist designer Noel Douglas. What emerges is a powerful critique of the current capitalist crisis through an analytical and theoretical response and an aesthetic-cultural rejoinder. By combining artistic responses with the analysis of leading radical theorists, the book expands the boundaries of critique beyond the usual discourse.
It's the Political Economy, Stupid argues that it is time to push back against the dictates of the capitalist logic and, by use of both theoretical and artistic means, launch a rescue of the very notion of the social.
"Confrontational, intellectual, and occasionally amusing group show, which squarely aligns itself with the Occupy movement." – Village Voice (praise for the exhibition on which the book is based)
"In the wake of the capitalist crisis, very few cultural institutions have dared to address the horrors of greed that plague us in such a direct and haunting way." – Alexander Cavaluzzo, Hyperallergic.com
Review by Martin Patrick for Art Monthly
Review by William Powhida for Hyperallergic.com
Review by Pascal Porcheron for The Grim Dance
Review by Milena Placentile for Canadian Dimension
Excerpts found here
Available from Pluto Books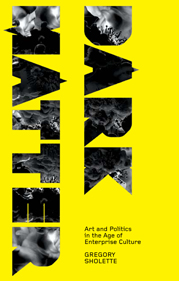 Dark Matter: Art and Politics in the Age of Enterprise Culture, Gregory Sholette, Pluto Press, 2010
Radical Social Production and the Missing Mass of the Contemporary Art World Gregory Sholette (Pluto Press UK, 2009.) The premise of this book is that the formal economy of contemporary art is dependent upon a previously suppressed sphere of informal, non-market, social production involving systems of gift exchange, cooperative networks, distributed knowledge, and collective activities, which is becoming increasingly visible and potentially threatening to the symbolic and fiscal cohesion of high culture, especially in its most politicized form as interventionist art.
For more on Dark Matter visit: darkmatterarchives.net
For an Additional 20% off use Promotional Code:P356ED
buy the new paperback here:
amazon
pluto books
"Based on a multitude of examples from the heterocosmos of invisible art practices, Dark Matter is the ultimate companion to contemporary activist art. In his exquisite and theoretically informed style Gregory Sholette investigates the problematic functions of art practices in the processes of neoliberal appropriation, but above all the wild explosive, and deterritorializing lines that are drawn in the dark matter between art and politics."
Gerald Runig, philosopher, art theorist and author of Art and Revolution.
"With great verve and urgency, Gregory Sholette explores the economics of contemporary art production in an era of neoliberalism, and outlines the promises and pitfalls of various tactics of resistance. Dark Matter is a salient call-to-arms to all cultural laborers."
Julia Bryan-Wilson, art historian and author of Art Workers: Radical Practice in the Vietnam War Era.
"As both active participant and witness Greg Sholette sheds a welcome and overdue light on the dark matter of the so-called art world."
Hans Haacke.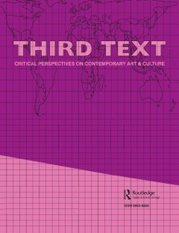 Third Text, Volume 22 Issue 5 September 2008

Special Issue " Whither Tactical Media" edited by Greg Sholette & Gene Ray. Critical perspectives on contemporary art and culture.
PDF found here
www.thirdtext.com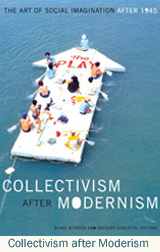 Collectivism After Modernism: Art and Social Imagination after 1945
Blake Stimson and Gregory Sholette, editors. (University of Minnesota Press, 1997.) With contributions by, Irina Aristarkhova, Jesse Drew, Okwi Enwezor, Ruben Gallo, Chris Gilbert, Brian Holmes, Alan Moore, Jelena Stojanovic, Reiko Tomii, and Rachel Weiss.
"To understand the various forms of postwar collectivism as historically determined phenomena and to articulate the possibilities for contemporary collectivist art production is the aim of Collectivism after Modernism. The essays assembled in this anthology argue that to make truly collective art means to reconsider the relation between art and public; examples from the Situationist International and Group Material to Paper Tiger Television and the Congolese collective Le Groupe Amos make the point. To construct an art of shared experience means to go beyond projecting what Blake Stimson and Gregory Sholette call the "imagined community": a collective has to be more than an ideal, and more than communal craft; it has to be a truly social enterprise. Not only does it use unconventional forms and media to communicate the issues and experiences usually excluded from artistic representation, but it gives voice to a multiplicity of perspectives. At its best it relies on the participation of the audience to actively contribute to the work, carrying forth the dialogue it inspires"
Philip Glahn, Bomb Magazine
PDF found here
www.stmarksbookshop.com
www.upress.umn.edu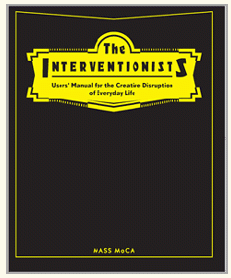 The Interventionists: Users Manual for the Creative Disruption of Everyday Life
Nato Thompson and Gregory Sholette editors. (Mass MoCA/MIT Press 2004, & 2005). With graphics by Arjen Noordeman, and contributions by Nicholas Mirzoeff, and Ondine C. Chavoya.
Art made to attach to buildings or to be given away? Wearable art for street demonstrations or art that sets up a booth at a trade show? This is the art of the interventionists, who trespass into the everyday world to raise our awareness of injustice and other social problems. These artists don't preach or proselytize; they give us the tools to form our own opinions and create our own political actions. The Interventionists, which accompanies an exhibit at MASS MoCA, serves as a handbook to this new and varied work. It's a user's guide to art that is exciting, provocative, unexpected, inspiring (artistically and politically), and fun. From Michael Rakowitz's inflatable homeless shelter and William Pope.L's "Black Factory" truck with pulverizer, gift shop, and giant inflatable igloo to the Biotic Baking Brigade's political pie-throwing, the art of The Interventionists surveys a growing genre and offers a guide for radical social action.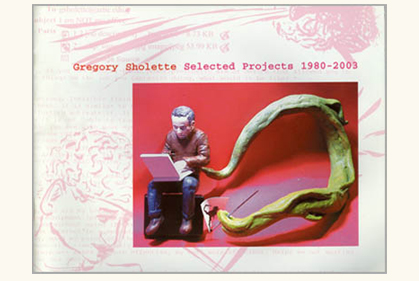 Gregory Sholette Selected Projects 1980-2003
16 pages, color 8.5″ x 11″, published by Colgate University, NY, 2004 $6. (US postage included, for foreign postage please add 3 dollars) Please email for order info.
As Radical as Reality Itself
Essays on Marxism and Art for the 21st Century edited by Matthew Beaumont, Andrew Hemingway, Esther Leslie, Esther, and John Roberts. (Peter Lang Publishers, Belin, 2007.) This volume includes the long version of Gregory Sholette's essay "Dark Matter and the Counter Public Sphere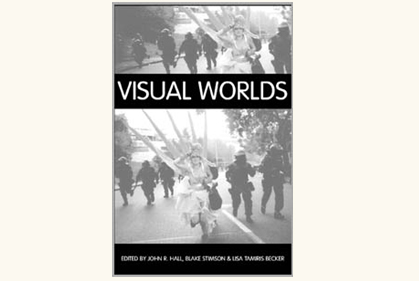 Visual Worlds
Blake Stimson, John R. Hall & Lisa T. Becker editors (Routledge, 2005). A collection of essays on visual culture that includes Gregory Sholette's essay, "Heart of Darkness: a Journey into the Dark Matter of the Art World"
Note: this book is still very expensive. The essay included is also downloadable on my site here:gregorysholette.com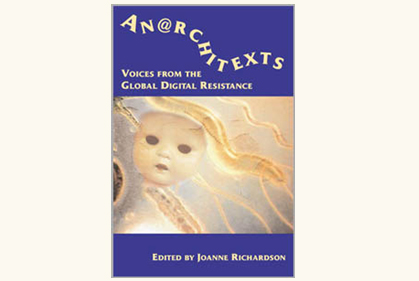 Anarchitexts
A collection of texts edited by Joanne Richardson of SUBSOL (Autonomedia Press, 2004), and contains "The Folds of an Institution," a conversation between Gregory Sholette, Brett Bloom, and Cesare Pietroiusti. Available from Autonomedia Press
This book and other books/papers by Greg Sholette are also available from St. Mark's Bookshop, New York City www.stmarksbookshop.com and Powels Books Chicago